By Kenneth Patchen
Be music, night,
That her sleep may go
Where angels have their pale tall choirs
Be a hand, sea,
That her dreams may watch
Thy guidesman touching the green flesh of the world
Be a voice, sky,
That her beauties may be counted
And the stars will tilt their quiet faces
Into the mirror of her loveliness
Be a road, earth,
That her walking may take thee
Where the towns of heaven lift their breathing spires
O be a world and a throne, God,
That her living may find its weather
And the souls of ancient bells in a child's book
Shall lead her into Thy wondrous house
Kenneth Patchen, "Be Music, Night" from Collected Poems. Copyright 1943 by Kenneth Patchen. Reprinted with the permission of New Directions Publishing Corporation.
Source: Collected Poems (New Directions Publishing Corporation, 1967)
Poet Bio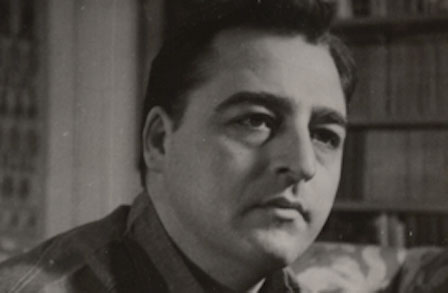 An inspiration for the Beat Generation and a true "people's poet," Kenneth Patchen was a prolific writer, visual artist and performer whose exuberant, free-form productions celebrate spontaneity and attack injustices, materialism, and war. Born in Niles, Ohio, he was an avid reader as a child and kept a diary from an early age; later he traveled throughout the United States, meeting a wide range of people and having the experiences he would explore in his prose and poetry. Patchen was also one of the first poets to read his work to a background of jazz.
See More By This Poet
More By This Poet
More Poems about Love
Browse poems about Love
More Poems about Relationships
Browse poems about Relationships
Get a random poem