By Tim Seibles
It's true: I almost never
smile, but that doesn't mean
I'm not    in love: my heart
is that black violin
played slowly. You know that
moment late in the solo
when the voice
is so pure    you feel
the blood in it: the wound
between rage
and complete surrender. That's
where I'm smiling. You just
can't see it—the sound
bleeding perfectly
inside me. The first time
I killed a vampire    I was
sad: I mean
we were almost
family.
But that's
so many lives
ago. I believe
in the cry that cuts
into the melody, the strings
calling back the forgotten world.
When I think of the madness
that has made me    and the midnight
I walk inside—all day long:
when I think of that
one note    that breaks
what's left of what's
human in me, man,
I love    everything
Tim Seibles, "Blade, Unplugged" from Fast Animal. Copyright © 2012 by Tim Seibles. Reprinted by permission of Etruscan Press.
Love
Mythology & Folklore
Poet Bio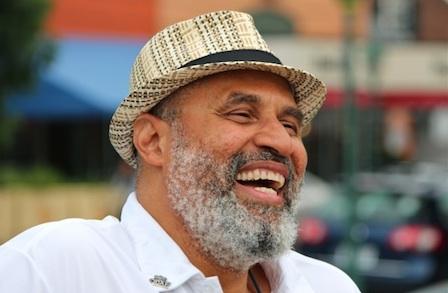 Poet Tim Seibles was born and raised in Philadelphia. He earned a BA at Southern Methodist University and an MFA at Vermont College of Norwich University. Seibles approaches themes of racial tension, class conflict, and intimacy from several directions at once in poems with plainspoken yet fast-turning language. He lives in Norfolk, Virginia.
See More By This Poet
More Poems about Love
Browse poems about Love
More Poems about Mythology & Folklore
Browse poems about Mythology & Folklore
Get a random poem