By Jaya Savige
Dense night is a needs thing.
You were lured
     in a luminous canoe
said to have once ruled
     a lunar ocean.
     The 2 am soda pour
of stars is all but silent;
only listen — 
   sedater than a sauropod
     in the bone epics
it spills all the moon spice,
     releasing a sap odour
          that laces
     us to a vaster scale
          of road opus.
A carousel of oral cues,
these spinning sonic coins.
A slide show of old wishes.
Poet Bio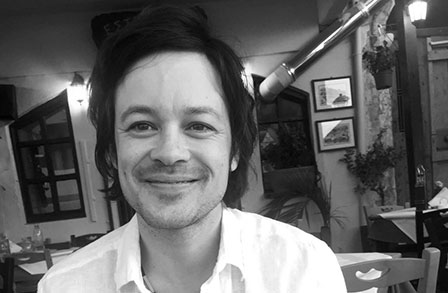 Jaya Savige's collections include Maze Bright (Vagabond Press, 2014) and Surface to Air (University of Queensland Press, 2011). He teaches at the New College of the Humanities, London.
More Poems about Nature
What Women Are Made Of
We are all ventricle, spine, lung, larynx, and gut.
Clavicle and nape, what lies forked in an open palm;

we are follicle and temple. We are ankle, arch,
sole. Pore and rib, pelvis and root

and tongue. We are wishbone and gland and molar
and...
White Box
Of Tribulation, these are They,
Denoted by the White.
— Emily Dickinson


Pained, permanent
wakefulness

Exposed
in the split geode

a Santa's grotto
Jagged milk

quartz crusts
constitute

every surface —
a mouth

all teeth
self-sharpening

like sea urchins' —
"Uncomfortably beautiful"

toughened glass
spikes

in the doorways
of award-

winning offices
 — rough

sleepers from the womb
condemned

to make of anything succulent
rock

of porticoes
iron maidens
Browse poems about Nature