By Aracelis Girmay
Consider the hands
that write this letter.
Left palm pressed flat against paper,
as we have done before, over my heart,
in peace or reverence to the sea,
some beautiful thing
I saw once, felt once: snow falling
like rice flung from the giants' wedding,
or strangest of strange birds. & consider, then,
the right hand, & how it is a fist,
within which a sharpened utensil,
similar to the way I've held a spade,
the horse's reins, loping, the very fists
I've seen from roads through Limay & Estelí.
For years, I have come to sit this way:
one hand open, one hand closed,
like a farmer who puts down seeds & gathers up;
food will come from that farming.
Or, yes, it is like the way I've danced
with my left hand opened around a shoulder,
my right hand closed inside
of another hand. & how I pray,
I pray for this to be my way: sweet
work alluded to in the body's position to its paper:
left hand, right hand
like an open eye, an eye closed:
one hand flat against the trapdoor,
the other hand knocking, knocking.
Aracelis Girmay, "Consider the Hands that Write this Letter" from Teeth, published by Curbstone Press. Copyright © 2007 by Aracelis Girmay. Reprinted by permission of Northwestern University Press.
Source: Teeth (Curbstone Press, 2007)
Poet Bio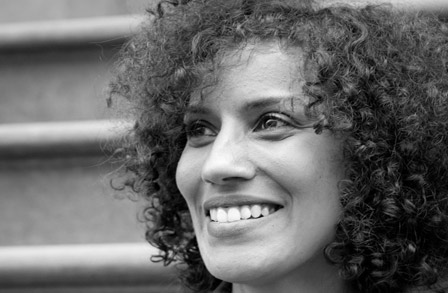 Born and raised in Santa Ana, California, poet Aracelis Girmay earned a BA at Connecticut College and an MFA from New York University. Her poems trace the connections of transformation and loss across cities and bodies. In 2011 Girmay was awarded a fellowship from the National Endowment for the Arts and in 2015 she received a Whiting Award for Poetry. A Cave Canem Fellow and an Acentos board member, she led youth and community writing workshops. She currently teaches at Hampshire College. She lives in New York City.
See More By This Poet
More Poems about Living
Browse poems about Living
More Poems about Relationships
Browse poems about Relationships
Get a random poem