By Ernest Hilbert
Maybe you've heard about this. Maybe not.
A man came home and chucked his girlfriend's cat
In the wood chipper. This really happened.
Dinner wasn't ready on time. A lot
Of other little things went wrong. He spat
On her father, who came out when he learned
About it. He also broke her pinky,
Stole her checks, and got her sister pregnant.
But she stood by him, stood strong, through it all,
Because she loved him. She loved him, you see.
She actually said that, and then she went
And married him. She felt some unique call.
Don't try to understand what another
Person means by love. Don't even bother.
Ernest Hilbert, "Domestic Situation" from Sixty Sonnets. Copyright © 2009 by Ernest Hilbert. Reprinted by permission of Red Hen Press.
Source: Sixty Sonnets (Red Hen Press, 2009)
Arts & Sciences
Love
Relationships
Poet Bio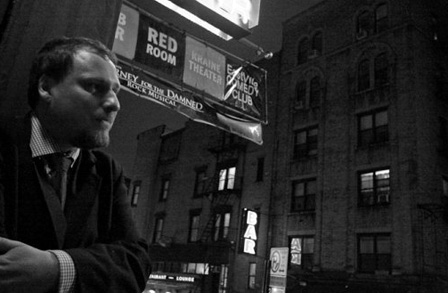 Born in Philadelphia and raised in southern New Jersey, poet, critic, and editor Ernest Hilbert received a BA from Rutgers University and a PhD in English literature from St. Catherine's College of Oxford University. In his debut collection, Sixty Sonnets (2009), Hilbert establishes a variation on the sonnet form, employing an intricate rhyme scheme and varied line length. A skillful practitioner of form and nuance, Hilbert shifts between delicately sonic moments and humorous narrative sequences. Hilbert founded the Oxford Quarterly and E-Verse Radio. Hilbert lives with his wife in Philadelphia, where he works as a rare book dealer.
See More By This Poet
More Poems about Arts & Sciences
Browse poems about Arts & Sciences
More Poems about Love
Browse poems about Love
More Poems about Relationships
Browse poems about Relationships
Get a random poem