By John Straley
(After Raymond Carver's Hummingbird)
Suppose I said the word "springtime"
and I wrote the words "king salmon"
on a piece of paper
and mailed it to you.
When you opened it
would you remember that afternoon we spent
together in the yellow boat
when the early whales were feeding
and we caught our first fish of the year?
Or would you remember that time off Cape Flattery
when you were a little girl:
your father smoking, telling stories as he ran the boat,
then the tug and zing of that very first fish
spooling off into the gray-green world;
you laughing and brushing back your hair
before setting the hook?
I know I am hard to understand sometimes
particularly when you are standing
at the post office with only a piece of paper
saying "king salmon" on it
but just think of it as a promissary note
and that electric tug, that thrill
pulling your mind into deep water
is how I feel about you every,
single day.
Notes:
The epigraph of this poem was originally omitted in the changeover to the new website. Because of this, reciting the epigraph is optional for the 2019-2020 Poetry Out Loud season.
John Straley, "every single day" from The Rising and the Rain. Copyright © 2008 by John Straley. Reprinted by permission of University of Alaska Press.
Source: The Rising and the Rain (University of Alaska Press, 2008)
Activities
Arts & Sciences
Living
Poet Bio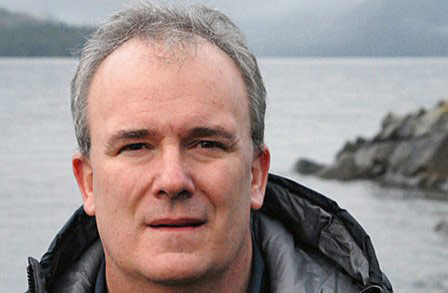 John Straley grew up in Seattle, Washington, earning a BA in English from the University of Washington before becoming a criminal defense investigator in Sitka, Alaska. An essayist and poet, Straley is best known as a writer of detective fiction. Drawing inspiration from Alaskan history and the natural beauty of the Pacific Northwest, his fiction and poetry emphasize personal narratives and local landscapes. He was the Alaska State Writer Laureate from 2006 to 2008.
See More By This Poet
More Poems about Activities
Browse poems about Activities
More Poems about Arts & Sciences
Browse poems about Arts & Sciences
More Poems about Living
Browse poems about Living