By George Starbuck
Here is the grackle, people.
Here is the fox, folks.
The grackle sits in the bracken. The fox   
   hopes.
Here are the fronds, friends,
that cover the fox.
The fronds get in a frenzy. The grackle   
   looks.
Here are the ticks, tykes,   
that live in the leaves, loves.   
The fox is confounded,
and God is above.
George Starbuck, "Fable for Blackboard" from Bone Thoughts. Copyright © 1960 by George Starbuck. Reprinted with the permission of Yale University Press.
Source: The Works: Poems Selected from Five Decades (The University of Alabama Press, 2003)
Poet Bio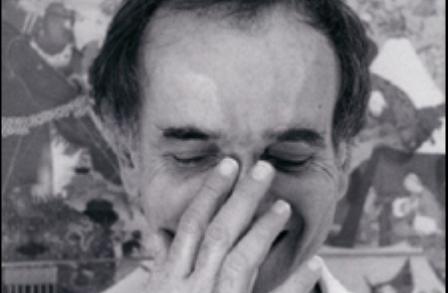 George Starbuck was born in Columbus, Ohio. He attended the California Institute of Technology, the University of California, the University of Chicago, and Harvard University. Starbuck spent two years as a corporal in the Military Police Corps before working at various universities. Starbuck was also a contributor to numerous periodicals including The New Yorker, The Atlantic Monthly, and Poetry magazine. He died in 1996 after a twenty-year battle with Parkinson's disease.
More By This Poet
More Poems about Activities
Browse poems about Activities
More Poems about Nature
What Women Are Made Of
We are all ventricle, spine, lung, larynx, and gut.
Clavicle and nape, what lies forked in an open palm;

we are follicle and temple. We are ankle, arch,
sole. Pore and rib, pelvis and root

and tongue. We are wishbone and gland and molar
and...
White Box
Of Tribulation, these are They,
Denoted by the White.
— Emily Dickinson


Pained, permanent
wakefulness

Exposed
in the split geode

a Santa's grotto
Jagged milk

quartz crusts
constitute

every surface —
a mouth

all teeth
self-sharpening

like sea urchins' —
"Uncomfortably beautiful"

toughened glass
spikes

in the doorways
of award-

winning offices
 — rough

sleepers from the womb
condemned

to make of anything succulent
rock

of porticoes
iron maidens
Browse poems about Nature