By Louise Bogan
I had come to the house, in a cave of trees,
Facing a sheer sky.
Everything moved,—a bell hung ready to strike,
Sun and reflection wheeled by.
When the bare eyes were before me
And the hissing hair,
Held up at a window, seen through a door.
The stiff bald eyes, the serpents on the forehead
Formed in the air.
This is a dead scene forever now.
Nothing will ever stir.
The end will never brighten it more than this,
Nor the rain blur.
The water will always fall, and will not fall,
And the tipped bell make no sound.
The grass will always be growing for hay
Deep on the ground.
And I shall stand here like a shadow
Under the great balanced day,
My eyes on the yellow dust, that was lifting in the wind,
And does not drift away.
n/a
Source: Body of this Death: Poems (1923)
Living
Mythology & Folklore
Poet Bio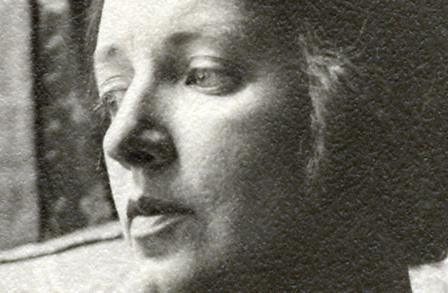 Louise Bogan published most of her poetry before age 40. Her first collection, Body of this Death, appeared in 1923 and her sixth, The Sleeping Fury, in 1937. Her work is often exactingly formal yet intensely personal. She reviewed poetry for the New Yorker for 38 years, becoming one of America's most astute critics.
More By This Poet
More Poems about Living
What Women Are Made Of
We are all ventricle, spine, lung, larynx, and gut.
Clavicle and nape, what lies forked in an open palm;

we are follicle and temple. We are ankle, arch,
sole. Pore and rib, pelvis and root

and tongue. We are wishbone and gland and molar
and...
Vagrants and Loiterers
You got that clean waistcoat,
the bright white of a well-tailored
shirt, you got those loose-as-sacks
slacks and some spit-polished shoes,
and you know, whether you are looking
like money, or about to take a stroll,
to tilt that hat like you own
the world; yeah, smoke...
Activities
Living
Social Commentaries
Browse poems about Living
More Poems about Mythology & Folklore
Browse poems about Mythology & Folklore