By Ben Belitt
Rise, cleanly trust, divided star,
And spend that delicate fraud upon the night—
A lover's instance moving mindful air
To make its peace in dedicated light
Whose look is charnel. Lusters, intent and blind,
Give darkness downward with a glow like sheaves—
A gleaner's pittance withered in the bind
That keeps the summer godhead of the leaves
And bends tremendous evening under it,
Doubles its theft within a lonely course
Till eye and eye repeat the counterfeit
And shape the replenishing mercy at its source.
All else were ravage: a demon-gaze of terror:
The emblem blackened in the living head,
The eye, the image, and the image-bearer
Struck to an awe with smiling on the dead.
Therefore that bounty which, however false,
Tenders survival, and is purely given,
And lends the viewless prisms at its pulse
To make an easy legendry in heaven.
Restore that grace! Indeed, the look is grace
That deals this desert providence in air
And lifts a deathshead, burning, into place
To serve a lover's faith.
Rise, carrion star.

Ben Belitt, "Night Piece" from Wilderness Stair (New York: Grove Press, 1955). Used by permission of the Estate of Ben Belitt.
Source: This Scribe My Hand: The Complete Poems of Ben Belitt (Louisiana State University Press, 1998)
Poet Bio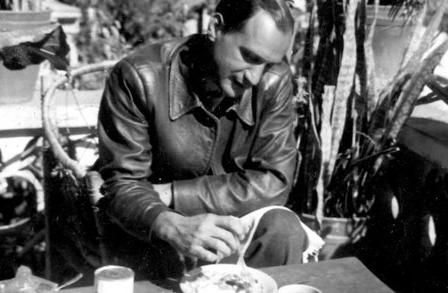 Poet, translator, and professor Ben Belitt was born in New York City in 1911. He earned degrees from the University of Virginia and taught for many years at Bennington College in Vermont. He won numerous awards during his life, including fellowships from the Guggenheim Foundation and the National Endowment for the Arts, and awards from the American Academy of Arts and Letters. Sometimes described as one of the neglected masters of 20th century American poetry, his poetry is often characterized as ornate, baroque, privileging sound over sense.
See More By This Poet
Get a random poem