By Oliver Wendell Holmes Sr.
Ay, tear her tattered ensign down!
   Long has it waved on high,
And many an eye has danced to see
   That banner in the sky;
Beneath it rung the battle shout,
   And burst the cannon's roar;—
The meteor of the ocean air
   Shall sweep the clouds no more!
Her deck, once red with heroes' blood
   Where knelt the vanquished foe,
When winds were hurrying o'er the flood
   And waves were white below,
No more shall feel the victor's tread,
   Or know the conquered knee;—
The harpies of the shore shall pluck
   The eagle of the sea!
O, better that her shattered hulk
   Should sink beneath the wave;
Her thunders shook the mighty deep,
   And there should be her grave;
Nail to the mast her holy flag,
   Set every thread-bare sail,
And give her to the god of storms,—
   The lightning and the gale!
Mythology & Folklore
Nature
Social Commentaries
Poet Bio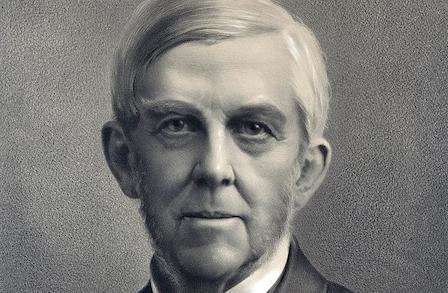 Oliver Wendell Holmes Sr., born in Cambridge, Massachusetts, was a brilliant doctor who was well known for his witty lectures at Harvard. Also a poet and essayist, Holmes's prose series "The Autocrat of the Breakfast Table" first appeared in the Atlantic Monthly with its inaugural issue in 1857. A year later it was published as a book, which also included some of his most memorable poetry.
More Poems about Mythology & Folklore
Browse poems about Mythology & Folklore
More Poems about Nature
What Women Are Made Of
We are all ventricle, spine, lung, larynx, and gut.
Clavicle and nape, what lies forked in an open palm;

we are follicle and temple. We are ankle, arch,
sole. Pore and rib, pelvis and root

and tongue. We are wishbone and gland and molar
and...
White Box
Of Tribulation, these are They,
Denoted by the White.
— Emily Dickinson


Pained, permanent
wakefulness

Exposed
in the split geode

a Santa's grotto
Jagged milk

quartz crusts
constitute

every surface —
a mouth

all teeth
self-sharpening

like sea urchins' —
"Uncomfortably beautiful"

toughened glass
spikes

in the doorways
of award-

winning offices
 — rough

sleepers from the womb
condemned

to make of anything succulent
rock

of porticoes
iron maidens
Browse poems about Nature
More Poems about Social Commentaries
Vagrants and Loiterers
You got that clean waistcoat,
the bright white of a well-tailored
shirt, you got those loose-as-sacks
slacks and some spit-polished shoes,
and you know, whether you are looking
like money, or about to take a stroll,
to tilt that hat like you own
the world; yeah, smoke...
Activities
Living
Social Commentaries
Back Up Quick They're Hippies
That was the year we drove
into the commune in Cornwall.
"Jesus Jim," mam said,
"back up quick they're hippies."

Through the car window,
tents, row after row, flaps open,
long-haired men and women
curled around each other like babies

and the babies themselves
wandered naked across the grass.

I...
Living
Relationships
Social Commentaries
Browse poems about Social Commentaries