By Donald Hall
In October of the year,
he counts potatoes dug from the brown field,
counting the seed, counting
the cellar's portion out,
and bags the rest on the cart's floor.
He packs wool sheared in April, honey
in combs, linen, leather
tanned from deerhide,
and vinegar in a barrel
hooped by hand at the forge's fire.
He walks by his ox's head, ten days
to Portsmouth Market, and sells potatoes,
and the bag that carried potatoes,
flaxseed, birch brooms, maple sugar, goose
feathers, yarn.
When the cart is empty he sells the cart.
When the cart is sold he sells the ox,
harness and yoke, and walks
home, his pockets heavy
with the year's coin for salt and taxes,
and at home by fire's light in November cold
stitches new harness
for next year's ox in the barn,
and carves the yoke, and saws planks
building the cart again.
Donald Hall, "Ox Cart Man" from Old and New Poems. Copyright © 1990 by Donald Hall. Reprinted with the permission of Houghton Mifflin Company. All rights reserved.
Source: Old and New Poems (1990)
Poet Bio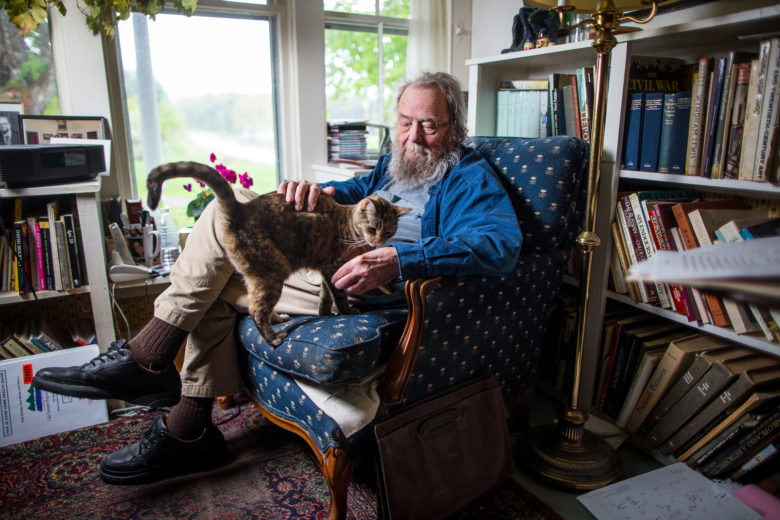 Few contemporary American writers have devoted themselves more fully to the art of poetry than Donald Hall. Born in New Haven, Connecticut, and educated at Harvard and Oxford, he retired from teaching in 1975 and returned to his family's farm in New Hampshire, determined to make his living as a freelance man of letters. Among his many works of criticism and poetry are Their Ancient Glittering Eyes (1992), a book dedicated to the lives of poets, and Without (1998), a series of elegies for his wife and fellow poet Jane Kenyon, who died in 1995.
See More By This Poet
More Poems about Activities
Browse poems about Activities
More Poems about Relationships
Browse poems about Relationships
Get a random poem