By Carmen Giménez Smith
Once when I was harmless
and didn't know any better,
a mirror to the front of me
and an ocean behind,
I lay wedged in the middle of daylight,
paper-doll thin, dreaming,
then I vanished. I gave the day a fingerprint,
then forgot.
I sat naked on a towel
on a hot June Monday.
The sun etched the inside of my eyelids,
while a boy dozed at my side.
The smell of all oceans was around us—
steamy salt, shell, and sweat,
but I reached for the distant one.
A tide rose while I slept,
and soon I was alone. Try being
a figure in memory. It's hollow there.
For truth's sake, I'll say she was on a beach
and her eyes were closed.
She was bare in the sand, long,
and the hour took her bit by bit.
Carmen Giménez Smith, "Photo of a Girl on a Beach" from Odalisque in Pieces. Copyright © 2009 by Carmen Gimenez Smith. Reprinted by permission of University of Arizona Press.
Source: Odalisque in Pieces (University of Arizona Press, 2009)
Arts & Sciences
Living
Nature
Poet Bio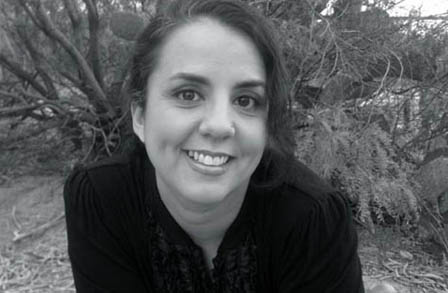 Born in New York, poet Carmen Giménez Smith earned a BA in English from San Jose State University and an MFA in creative writing from the University of Iowa. She is the editor-in-chief of Puerto del Sol and publisher of Noemi Press. She teaches at New Mexico State University in Las Cruces, New Mexico. Giménez Smith's work explores issues affecting the lives of females, including Latina identity, and frequently references myth and memory.
See More By This Poet
More Poems about Arts & Sciences
Browse poems about Arts & Sciences
More Poems about Living
Browse poems about Living
More Poems about Nature
Browse poems about Nature