By Tato Laviera
pues estoy creando spanglish
bi-cultural systems
scientific lexicographical
inter-textual integrations
two expressions
existentially wired
two dominant languages
continentally abrazándose
en colloquial combate
en las aceras del soil
imperio spanglish emerges
control pandillaje
sobre territorio bi-lingual
las novelas mexicanas
mixing with radiorocknroll
condimented cocina lore
immigrant/migrant
nasal mispronouncements
baraja chismeteos social club
hip-hop prieto street salsa
corner soul enmixturando
spanish pop farándula
standard english classroom
with computer technicalities
spanglish is literally perfect
spanglish is ethnically snobbish
spanglish is cara-holy inteligencia
which u.s. slang do you speak?
Tato Laviera, "spanglish" from Benedición: The Complete Poetry of Tato Laviera. Copyright © 2014 by Tato Laviera. Reprinted by permission of Arte Público Press.
Source: Benedición: The Complete Poetry of Tato Laviera (Arte Público Press, 2014)
Arts & Sciences
Social Commentaries
Poet Bio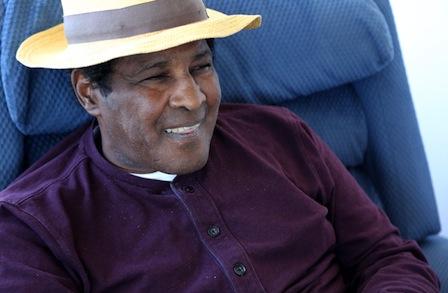 Nuyorican poet Tato Laviera was born in Puerto Rico, the son of a philosopher and a writer. He moved to New York City in 1960, and was educated at Cornell University and Brooklyn College. Shifting between English and Spanish in his poetry, Laviera addressed themes of immigration, history, and transcultural identity.
See More By This Poet
More Poems about Arts & Sciences
Browse poems about Arts & Sciences
More Poems about Social Commentaries
Browse poems about Social Commentaries
Get a random poem