By James Tate
The blue booby lives
on the bare rocks
of Galápagos
and fears nothing.
It is a simple life:
they live on fish,
and there are few predators.
Also, the males do not
make fools of themselves
chasing after the young
ladies. Rather,
they gather the blue
objects of the world
and construct from them
a nest—an occasional
Gaulois package,
a string of beads,
a piece of cloth from
a sailor's suit. This
replaces the need for
dazzling plumage;
in fact, in the past
fifty million years
the male has grown
considerably duller,
nor can he sing well.
The female, though,
asks little of him—
the blue satisfies her
completely, has
a magical effect
on her. When she returns
from her day of
gossip and shopping,
she sees he has found her
a new shred of blue foil:
for this she rewards him
with her dark body,
the stars turn slowly
in the blue foil beside them
like the eyes of a mild savior.
James Tate, "The Blue Booby" from Selected Poems. Copyright © 1991 by James Tate. Reprinted with the permission of Wesleyan University Press.
Source: Selected Poems (Wesleyan University Press, 1991)
Living
Nature
Relationships
Poet Bio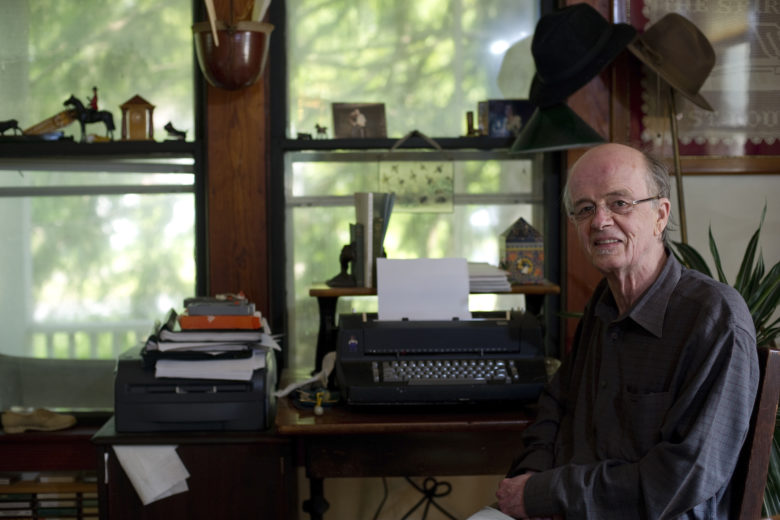 James Tate was born in 1943 in Kansas City, Missouri. He earned a BA from Kansas State College and an MFA from the Iowa Writers' Workshop. Tate's poems have been described as tragic, comic, absurdist, ironic, hopeful, haunting, lonely, and surreal. Many of his poems are character driven, featuring a narrator's various encounters with a gnome, a goat, an insurance agent.
See More By This Poet
More Poems about Living
Browse poems about Living
More Poems about Nature
Browse poems about Nature
More Poems about Relationships
Browse poems about Relationships
Get a random poem