By G. K. Chesterton
When fishes flew and forests walked
And figs grew upon thorn,
Some moment when the moon was blood
Then surely I was born.
With monstrous head and sickening cry
And ears like errant wings,
The devil's walking parody
On all four-footed things.
The tattered outlaw of the earth,
Of ancient crooked will;
Starve, scourge, deride me: I am dumb,
I keep my secret still.
Fools! For I also had my hour;
One far fierce hour and sweet:
There was a shout about my ears,
And palms before my feet.
n/a
Source: The Collected Poems of G. K. Chesterton (Dodd Mead & Company, 1927)
Poet Bio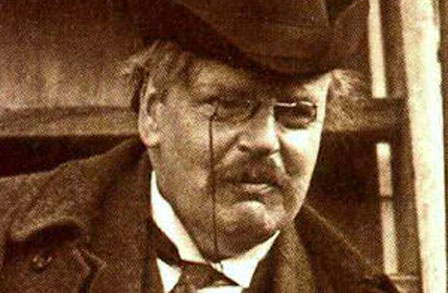 Poet, fiction writer, social philosopher, journalist, and critic G.K. Chesterton was born in London. He attended art school, then began a varied and prolific career by writing art criticism. Chesterton brought a deep engagement with religious and moral concerns to all his work, addressing the social and political events of his day. Refusing to ally himself with either conservative or progressive agendas, Chesterton often engaged in witty public debates with friends George Bernard Shaw and H.G. Wells. Raised in a liberal family, he converted to Catholicism at the age of 48.
See More By This Poet
More Poems about Relationships
Browse poems about Relationships
More Poems about Religion
Browse poems about Religion
Get a random poem