By Raza Ali Hasan
In the lull, the afternoon sun warms
the linseed field. The flowers are quiet,
their bright subdued in the green
while the mind wanders
to the emerald mosque upon the hill,
built around a flowing spring,
the easy absolutions and ablutions
in that mosque where the spring water
has been let loose to meander
over marble courtyards and inner chambers,
across the geometric, green-tiled floor that
cools the heels of the faithful.
Raza Ali Hasan, "The Emerald Mosque on the Hill" from Grieving Shias. Copyright © 2006 by Raza Ali Hasan. Reprinted by permission of The Sheep Meadow Press.
Source: Grieving Shias (The Sheep Meadow Press, 2006)
Nature
Social Commentaries
Poet Bio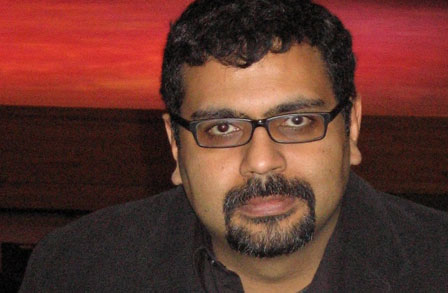 The Pakistani-American poet Raza Ali Hasan came to America in 1991. He earned a BA and an MA from the University of Texas, Austin, and an MFA from Syracuse University. Hasan lives in Boulder and has taught at the University of Colorado and Iowa State University. His poetry addresses political and cultural themes with imagery both sharply focused and set within a moving, unstable field.
See More By This Poet
More Poems about Nature
Browse poems about Nature
More Poems about Social Commentaries
Browse poems about Social Commentaries
Get a random poem