By Dana Gioia
"We're going," they said, "to the end of the world."
So they stopped the car where the river curled,
And we scrambled down beneath the bridge
On the gravel track of a narrow ridge.
We tramped for miles on a wooded walk
Where dog-hobble grew on its twisted stalk.
Then we stopped to rest on the pine-needle floor
While two ospreys watched from an oak by the shore.
We came to a bend, where the river grew wide
And green mountains rose on the opposite side.
My guides moved back. I stood alone,
As the current streaked over smooth flat stone.
Shelf by stone shelf the river fell.
The white water goosetailed with eddying swell.
Faster and louder the current dropped
Till it reached a cliff, and the trail stopped.
I stood at the edge where the mist ascended,
My journey done where the world ended.
I looked downstream. There was nothing but sky,
The sound of the water, and the water's reply.
Dana Gioia, "The End of the World" from Interrogations at Noon. Copyright © 2001 by Dana Gioia. Reprinted with the permission of Graywolf Press, St. Paul, Minnesota, www.graywolfpress.org.
Source: Interrogations at Noon (Graywolf Press, 2001)
Poet Bio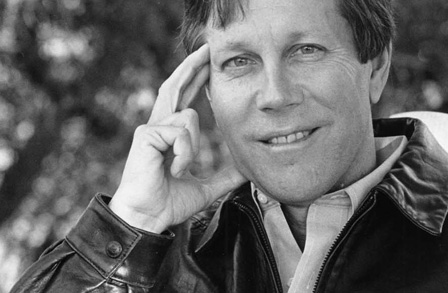 It seems almost a requirement for a poet to have an unconventional résumé, but Dana Gioia's is perhaps notable for being so conventionally unpoetic. A graduate of Stanford Business School, Gioia claims to be "the only person, in history, who went to business school to be a poet." He later rose to become a vice president at General Foods. He served as chairperson of the National Endowment for the Arts from 2003 to 2008 and is the Judge Widney Professor of Poetry and Public Culture at the University of Southern California. In 2015, Gioia was named Poet Laureate of California. Although Gioia writes in free verse, he is known primarily for his formal work, and has been included in the school of New Formalism, a movement in the 1990s by American poets to bring traditional verse forms back to the fore.
See More By This Poet
More By This Poet
Pity the Beautiful
Pity the beautiful,
the dolls, and the dishes,
the babes with big daddies
granting their wishes.

Pity the pretty boys,
the hunks, and Apollos,
the golden lads whom
success always follows.

The hotties, the knock-outs,
the tens out of ten,
the drop-dead gorgeous,
the...
More Poems about Nature
Browse poems about Nature
Get a random poem