By Robert Hedin
Of all the people in the mornings at the mall,   
it's the old liberators I like best,   
those veterans of the Bulge, Anzio, or Monte Cassino   
I see lost in Automotive or back in Home Repair,   
bored among the paints and power tools.   
Or the really old ones, the ones who are going fast,   
who keep dozing off in the little orchards   
of shade under the distant skylights.   
All around, from one bright rack to another,   
their wives stride big as generals,   
their handbags bulging like ripe fruit.   
They are almost all gone now,   
and with them they are taking the flak   
and fire storms, the names of the old bombing runs.   
Each day a little more of their memory goes out,   
darkens the way a house darkens,   
its rooms quietly filling with evening,   
until nothing but the wind lifts the lace curtains,   
the wind bearing through the empty rooms   
the rich far off scent of gardens   
where just now, this morning,   
light is falling on the wild philodendrons.
Poem copyright © 1999 by Robert Hedin. Reprinted from "The Old Liberators: New and Selected Poems and Translations," Holy Cow! Press, 1999, by permission of the Robert Hedin.
Living
Social Commentaries
Poet Bio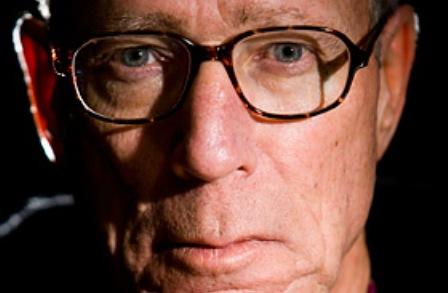 Poet Robert Hedin was born and raised in Red Wing, Minnesota. He studied at Luther College in Decorah, Iowa, and at the University of Alaska, Fairbanks. After living in North Carolina, France, and Alaska for many years, he returned to Red Wing and founded the Anderson Center for Interdisciplinary Studies, an artists' retreat. Much of Hedin's poetry is set in the landscape of the Midwest and he has also translated the work of several Norwegian poets.
More Poems about Living
Browse poems about Living
More Poems about Social Commentaries
Vagrants and Loiterers
You got that clean waistcoat,
the bright white of a well-tailored
shirt, you got those loose-as-sacks
slacks and some spit-polished shoes,
and you know, whether you are looking
like money, or about to take a stroll,
to tilt that hat like you own
the world; yeah, smoke...
Activities
Living
Social Commentaries
Back Up Quick They're Hippies
That was the year we drove
into the commune in Cornwall.
"Jesus Jim," mam said,
"back up quick they're hippies."

Through the car window,
tents, row after row, flaps open,
long-haired men and women
curled around each other like babies

and the babies themselves
wandered naked across the grass.

I...
Living
Relationships
Social Commentaries
Browse poems about Social Commentaries