By Charles Olson
                     colored pictures
of all things to eat: dirty
postcards
               And words, words, words   
all over everything
                                              No eyes or ears left   
to do their own doings (all
invaded, appropriated, outraged, all senses
including the mind, that worker on what is
                                                                  And that other sense   
made to give even the most wretched, or any of us, wretched,
that consolation (greased
                                        lulled   
even the street-cars
song
Charles Olson, "The Songs of Maximus: 'Song 1' " from The Maximus Poems, published by the University of California Press. Copyright © 1983 by Charles Olson. Reprinted with the permission of The Literary Estate of Charles Olson.
Source: The Maximus Poems (University of California Press, 1987)
Arts & Sciences
Social Commentaries
Poet Bio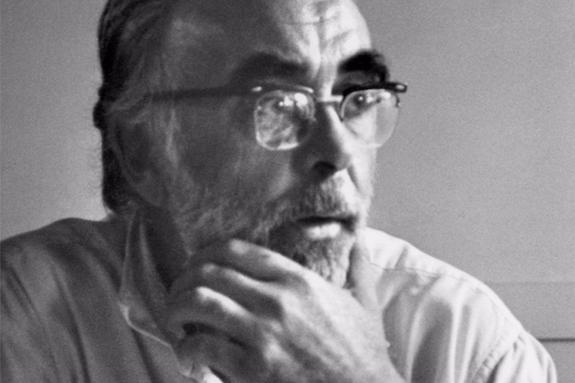 Charles Olson grew up in Worcester, Massachusetts and spent summers in Gloucester, Massachusetts, which was to become the focus of his writing. In 1951, Olson became a visiting professor at Black Mountain College in North Carolina, working and studying here beside artists such as John Cage and Robert Creeley. He subsequently became rector of the college. Olson's ideas came to deeply influence a generation of poets, including writers such as Denise Levertov, Paul Blackburn, Ed Dorn and Robert Duncan.
More By This Poet
More Poems about Arts & Sciences
Browse poems about Arts & Sciences
More Poems about Social Commentaries
Vagrants and Loiterers
You got that clean waistcoat,
the bright white of a well-tailored
shirt, you got those loose-as-sacks
slacks and some spit-polished shoes,
and you know, whether you are looking
like money, or about to take a stroll,
to tilt that hat like you own
the world; yeah, smoke...
Activities
Living
Social Commentaries
Back Up Quick They're Hippies
That was the year we drove
into the commune in Cornwall.
"Jesus Jim," mam said,
"back up quick they're hippies."

Through the car window,
tents, row after row, flaps open,
long-haired men and women
curled around each other like babies

and the babies themselves
wandered naked across the grass.

I...
Living
Relationships
Social Commentaries
Browse poems about Social Commentaries