By Weldon Kees
"A equals X," says Mister One.   
"A equals B," says Mister Two.   
"A equals nothing under the sun   
But A," says Mister Three. A few   
Applaud; some wipe their eyes;   
Some linger in the shade to see   
One and Two in neat disguise   
Decapitating Mister Three.
"This age is not entirely bad."
It's bad enough, God knows, but you   
Should know Elizabethans had   
Sweeneys and Mrs. Porters too.   
The past goes down and disappears,   
The present stumbles home to bed,   
The future stretches out in years
That no one knows, and you'll be dead.
Weldon Kees, "The Speakers" from The Collected Poems of Weldon Kees edited by Donald Justice by permission of the University of Nebraska Press. Copyright 1962, 1975, by the University of Nebraska Press. © renewed 2003 by the University of Nebraska Press.
Source: The Collected Poems of Weldon Kees (2003)
Poet Bio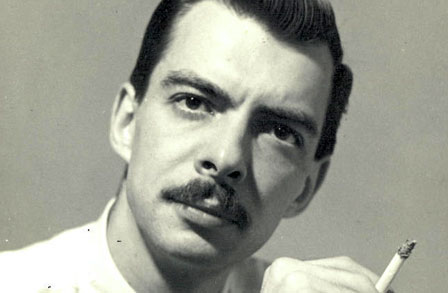 Weldon Kees was born in Beatrice, Nebraska and attended Doane College, the University of Missouri and the University of Nebraska, earning his degree in 1935. In addition to writing, Kees was passionate about painting and throughout his life created many forms of art including experimental films. In 1955 Kees took his sleeping bag and his savings account book and disappeared, leaving his car on the Golden Gate Bridge. It is not known whether he killed himself or went to Mexico.
More By This Poet
More Poems about Social Commentaries
Vagrants and Loiterers
You got that clean waistcoat,
the bright white of a well-tailored
shirt, you got those loose-as-sacks
slacks and some spit-polished shoes,
and you know, whether you are looking
like money, or about to take a stroll,
to tilt that hat like you own
the world; yeah, smoke...
Activities
Living
Social Commentaries
Back Up Quick They're Hippies
That was the year we drove
into the commune in Cornwall.
"Jesus Jim," mam said,
"back up quick they're hippies."

Through the car window,
tents, row after row, flaps open,
long-haired men and women
curled around each other like babies

and the babies themselves
wandered naked across the grass.

I...
Living
Relationships
Social Commentaries
Browse poems about Social Commentaries