By Stuart Dybek
The garments worn in flying dreams
were fashioned there—
overcoats that swooped like kites,
scarves streaming like vapor trails,
gowns ballooning into spinnakers.
In a city like that one might sail
through life led by a runaway hat.
The young scattered in whatever directions
their wild hair pointed, and gusting
into one another, fell in love.
At night, wind rippled saxophones
that hung like windchimes in pawnshop
windows, hooting through each horn
so that the streets seemed haunted
not by nighthawks, but by doves.
Pinwheels whirled from steeples
in place of crosses. At the pinnacles
of public buildings, snagged underclothes—
the only flag—flapped majestically.
And when it came time to disappear
one simply chose a thoroughfare
devoid of memories, raised a collar,
and turned his back on the wind.
I closed my eyes and stepped
into a swirl of scuttling leaves.
"Windy City" from Streets in Their Own Ink by Stuart Dybek. Copyright 2004 by Stuart Dybek. Used by permission of Farrar, Straus & Giroux, LLC, http://us.macmillan.com/fsg. All rights reserved.

Caution: Users are warned that this work is protected under copyright laws and downloading is strictly prohibited. The right to reproduce or transfer the work via any medium must be secured with Farrar, Straus and Giroux, LLC.
Source: Streets in Their Own Ink (Farrar Straus and Giroux, 2006)
Poet Bio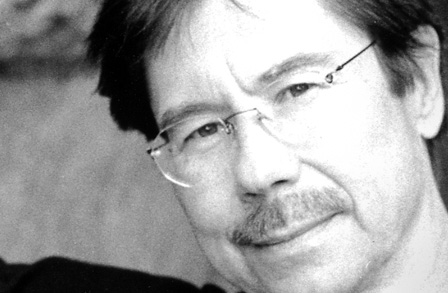 Stuart Dybek is a masterful short story writer as well as poet. The qualities that distinguish his fiction—a strong connection to place, particularly his native Chicago, childhood nostalgia tinged with irony, a meandering narrative pace, and an ability to find beauty amid urban blight—also characterize much of his poetry. Few writers have captured street life as movingly as Dybek. The son of a Polish immigrant, he has published two critically acclaimed books of short stories, The Coast of Chicago and Childhood and Other Neighborhoods, as well as a collection of linked stories: I Sailed with Magellan. He teaches at Western Michigan University and lives in Kalamazoo, Michigan.
See More By This Poet
More By This Poet
More Poems about Social Commentaries
Browse poems about Social Commentaries
Get a random poem