By Afaa Michael Weaver
The survey says all groups can make more money
if they lose weight except black men…men of other colors
and women of all colors have more gold, but black men
are the summary of weight, a lead thick thing on the scales,
meters spinning until they ring off the end of the numbering
of accumulation, how things grow heavy, fish on the
ends of lines that become whales, then prehistoric sea life
beyond all memories, the billion days of human hands
working, doing all the labor one can imagine, hands
now the population of cactus leaves on a papyrus moon
waiting for the fire, the notes from all their singing gone
up into the salt breath of tears of children that dry, rise
up to be the crystalline canopy of promises, the infinite
gone fishing days with the apologies for not being able to love
anymore, gone down inside earth somewhere where
women make no demands, have fewer dreams of forever,
these feet that marched and ran and got cut off, these hearts
torn out of chests by nameless thieves, this thrashing
until the chaff is gone out and black men know the gold
of being the dead center of things, where pain is the gateway
to Jerusalems, Bodhi trees, places for meditation and howling,
keeping the weeping heads of gods in their eyes.
Source: Poetry (March 2007)
Poet Bio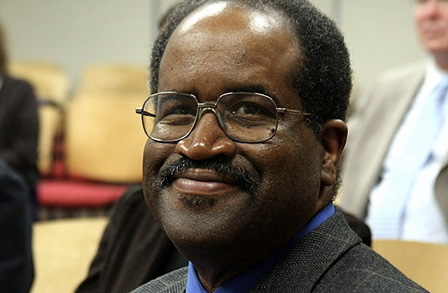 Afaa Michael Weaver (蔚雅風 in Chinese, and previously Michael S. Weaver) was born and raised in Baltimore, Maryland, where he attended public schools. After two years of study at the University of Maryland-College Park, he later earned his BA at Regents College-University of the State of New York (now Excelsior College) and completed graduate work in creative writing at Brown University, where his focus was playwriting and theater. Weaver's early poetry was influenced by the Black Arts Movement and the poetry of Lucille Clifton. His subjects cover a broad range, including family dynamics, American history and culture, Chinese and Asian culture and philosophies, and Jewish culture and religious history. Weaver was a member of Cave Canem's first faculty at the retreat in 1997, and in 1998 he became the first "Elder" of the Cave Canem organization. His papers are held in the Howard Gotlieb Archival Research Center at Boston University.
See More By This Poet
More Poems about Social Commentaries
Browse poems about Social Commentaries
Get a random poem