Get involved today! Contact your state arts agency.
Poetry Out Loud is a national arts education program that encourages the study of great poetry by offering free educational materials and a dynamic recitation competition for high school students across the country. This program helps students master public speaking skills, build self-confidence, and learn about literary history and contemporary life. Poetry Out Loud is a partnership of the National Endowment for the Arts, Poetry Foundation, and the state and jurisdictional arts agencies.
Since 2005, Poetry Out Loud has grown to reach more than 4.2 million students and 72,000 teachers from 18,000 schools and organizations in every state, American Samoa, the District of Columbia, Guam, Puerto Rico, and the U.S. Virgin Islands.
Contest Structures and Awards
Poetry Out Loud can be conducted virtually or in-person. The program starts at the classroom/school or at the local level with an area organization. Winners then may advance to a regional and/or state competition, and ultimately to the national finals. Awards and placements are determined solely by the judges' scores based on the Poetry Out Loud Evaluation Criteria.
Non-school organizations, such as after school clubs, libraries, or non-profit organizations, may also choose to run Poetry Out Loud. Students may only compete in one stream—either with their school or an organization. Students unable to participate at their school or local organization should contact their state Poetry Out Loud coordinator to discuss other opportunities for inclusion in the state's official competition.
Each winner at the state level receives $200 and an all-expenses-paid trip (with an adult chaperone) to Washington, DC, to compete at the National Finals. The state winner's school/organization receives $500 for the purchase of poetry materials. The first runner-up in each state receives $100, with $200 for their school/organization. At the national finals, a total of $50,000 in awards and school/organizational stipends are awarded annually including a $20,000 award for the National Champion, $10,000 for 2nd place, $5,000 for 3rd place, and $1,000 for 4th-12th places. The representing schools/organizations of each of the top 12 finalists receive $500 for the purchase of poetry materials. Visit the FAQ and rules sections for more details.
Program Materials and Schedule
Poetry Out Loud provides free curriculum materials—all available online—including a poetry anthology, a comprehensive teacher's guide, videos of student performances, lesson plans, and promotional and media resources. Limited hard copies of materials are available for teachers participating in the official program but anyone can access the online materials.
After schools or organizations register with their state arts agency, materials are sent on a rolling basis beginning in August. Poetry Out Loud does not require full class periods and can be completed in 2-3 weeks. States hold their competitions by mid-March. Following the state finals, the national finals are planned to be held in Washington, DC, from April 30- May 2, 2024.
While teachers, students, and poetry lovers everywhere can use this website and its free materials to organize their own contests, the official contest is limited to the programs run by each state's arts agency.
POL Research Report
This report presents findings from an evaluation of Poetry Out Loud, a national arts education program supported by the National Endowment for the Arts, the Poetry Foundation, and state and jurisdictional arts agencies. The quasi-experimental study—involving data collection from ten sample schools—assessed the program's impact on poetry appreciation and engagement, social and emotional development, and academic performance.
Also find below a fact sheet that presents a summary of the findings, Understanding the Impact of Poetry Out Loud: Findings from a National Study.
Mobile Apps
With the Poetry Out Loud app, you can easily find, save, and practice poems for the competition on your phone. Now available for download:
Partners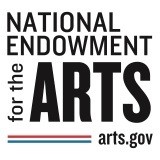 The National Endowment for the Arts was established by Congress in 1965 as an independent federal agency whose funding and support gives Americans the opportunity to participate in the arts, exercise their imaginations, and develop their creative capacities. Through partnerships with state arts agencies, local leaders, other federal agencies, and the philanthropic sector, the Arts Endowment supports arts learning, affirms and celebrates America's rich and diverse cultural heritage, and extends its work to promote equal access to the arts in every community across America.

The Poetry Foundation recognizes the power of words to transform lives. We work to amplify poetry and celebrate poets by fostering spaces for all to create, experience, and share poetry.
"Poetry Out Loud has provided a wonderful community of people who enjoy indulging in the beauty of poetry."

Stella Wright, 2023 Minnesota State Champion
Rules & Eligibility
Key Dates
State Contacts
Competition Winners