By Robert Lowell
Those blessèd structures, plot and rhyme—
why are they no help to me now
I want to make
something imagined, not recalled?
I hear the noise of my own voice:
The painter's vision is not a lens,
it trembles to caress the light.
But sometimes everything I write
with the threadbare art of my eye
seems a snapshot,
lurid, rapid, garish, grouped,
heightened from life,
yet paralyzed by fact.
All's misalliance.
Yet why not say what happened?
Pray for the grace of accuracy
Vermeer gave to the sun's illumination
stealing like the tide across a map
to his girl solid with yearning.
We are poor passing facts,
warned by that to give
each figure in the photograph
his living name.
Robert Lowell, "Epilogue" from Day by Day. Copyright © 1977 by Robert Lowell. Used by permission of Farrar, Straus & Giroux, LLC, http://us.macmillan.com/fsg. All rights reserved.

Caution: Users are warned that this work is protected under copyright laws and downloading is strictly prohibited. The right to reproduce or transfer the work via any medium must be secured with Farrar, Straus and Giroux, LLC.
Source: Day by Day (1977)
Poet Bio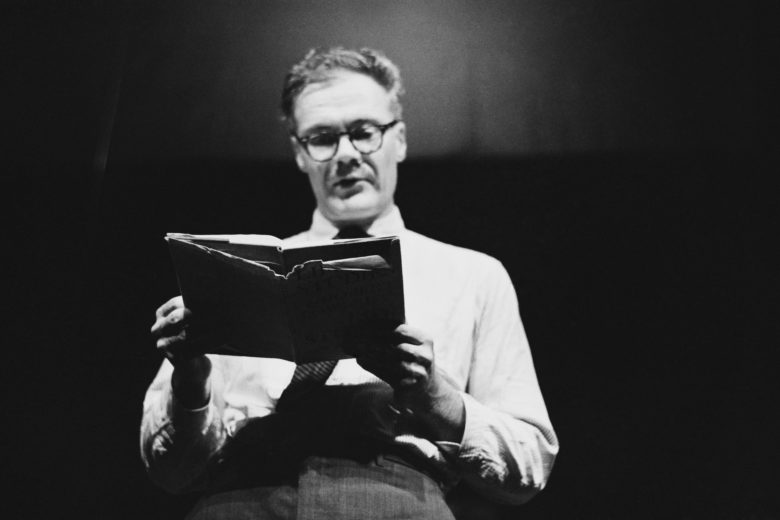 The most celebrated and ambitious American poet of his era, Robert Lowell transformed the particulars of his prominent New England family's background and turbulent private life into controversial art. Lowell's book Life Studies (1959), which reveals his struggles with madness, alcohol, and marital infidelity, gave rise to the so-called "confessional" school. In subsequent works he explored political issues and historical figures while extending his experiments in verse technique.
See More By This Poet
More By This Poet
More Poems about Arts & Sciences
Listening in Deep Space
We've always been out looking for answers,
telling stories about ourselves,
searching for connection, choosing
to send out Stravinsky and whale song,
which, in translation, might very well be
our undoing instead of a welcome.

We launch satellites, probes, telescopes
unfolding like origami, navigating
geomagnetic storms, major disruptions.
Rovers...
Browse poems about Arts & Sciences
Get a random poem