By Alexander Pope
Happy the man, whose wish and care
   A few paternal acres bound,
Content to breathe his native air,
                            In his own ground.
Whose herds with milk, whose fields with bread,
   Whose flocks supply him with attire,
Whose trees in summer yield him shade,
                            In winter fire.
Blest, who can unconcernedly find
   Hours, days, and years slide soft away,
In health of body, peace of mind,
                            Quiet by day,
Sound sleep by night; study and ease,
   Together mixed; sweet recreation;
And innocence, which most does please,
                            With meditation.
Thus let me live, unseen, unknown;
   Thus unlamented let me die;
Steal from the world, and not a stone
                            Tell where I lie.
Poet Bio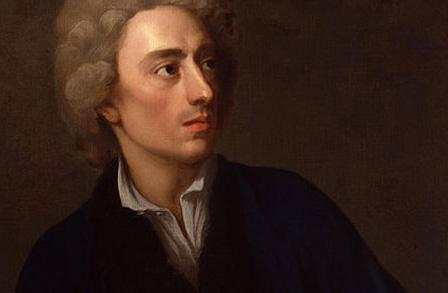 Alexander Pope was born in London to a Roman Catholic family. A childhood sickness left him with stunted height, a curved spine, and ill health for the rest of his life. Pope earned fame and great financial success as a poet, satirist, and translator. He is perhaps best remembered for his mastery of the heroic couplet, as in An Essay on Man and "The Rape of the Lock."
More Poems about Social Commentaries
Vagrants and Loiterers
You got that clean waistcoat,
the bright white of a well-tailored
shirt, you got those loose-as-sacks
slacks and some spit-polished shoes,
and you know, whether you are looking
like money, or about to take a stroll,
to tilt that hat like you own
the world; yeah, smoke...
Activities
Living
Social Commentaries
Back Up Quick They're Hippies
That was the year we drove
into the commune in Cornwall.
"Jesus Jim," mam said,
"back up quick they're hippies."

Through the car window,
tents, row after row, flaps open,
long-haired men and women
curled around each other like babies

and the babies themselves
wandered naked across the grass.

I...
Living
Relationships
Social Commentaries
Browse poems about Social Commentaries