By David Mason
Mine, said the stone,
mine is the hour.
I crush the scissors,
such is my power.
Stronger than wishes,
my power, alone.
Mine, said the paper,
mine are the words
that smother the stone
with imagined birds,
reams of them, flown
from the mind of the shaper.
Mine, said the scissors,
mine all the knives
gashing through paper's
ethereal lives;
nothing's so proper
as tattering wishes.
As stone crushes scissors,
as paper snuffs stone
and scissors cut paper,
all end alone.
So heap up your paper
and scissor your wishes
and uproot the stone
from the top of the hill.
They all end alone
as you will, you will.
David Mason, "Song of the Powers" from The Country I Remember (Brownsville, Oregon: Story Line Press, 1996). Copyright © 1996 by David Mason. Used with the permission of the author.
Source: The Country I Remember (Story Line Press, 1996)
Poet Bio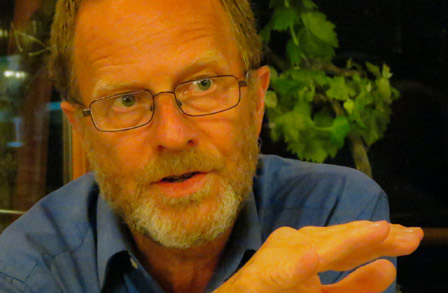 Originally from Bellingham, Washington, David Mason currently lives outside Colorado Springs where he teaches at his alma mater, Colorado College. Mason's love for travel — he has lived in Greece and hitchhiked the British Isles — along with such tragedies as his brother's death, are major themes in his work. Also a deft essayist and critic, Mason's poetry has been collected in The Country I Remember and Arrivals.
See More By This Poet
Get a random poem