By William Butler Yeats
Turning and turning in the widening gyre
The falcon cannot hear the falconer;
Things fall apart; the centre cannot hold;
Mere anarchy is loosed upon the world,
The blood-dimmed tide is loosed, and everywhere
The ceremony of innocence is drowned;
The best lack all conviction, while the worst
Are full of passionate intensity.
Surely some revelation is at hand;
Surely the Second Coming is at hand.
The Second Coming! Hardly are those words out
When a vast image out of Spiritus Mundi
Troubles my sight: somewhere in sands of the desert
A shape with lion body and the head of a man,
A gaze blank and pitiless as the sun,
Is moving its slow thighs, while all about it
Reel shadows of the indignant desert birds.
The darkness drops again; but now I know
That twenty centuries of stony sleep
Were vexed to nightmare by a rocking cradle,
And what rough beast, its hour come round at last,
Slouches towards Bethlehem to be born?
n/a
Source: The Collected Poems of W. B. Yeats (1989)
Religion
Social Commentaries
Poet Bio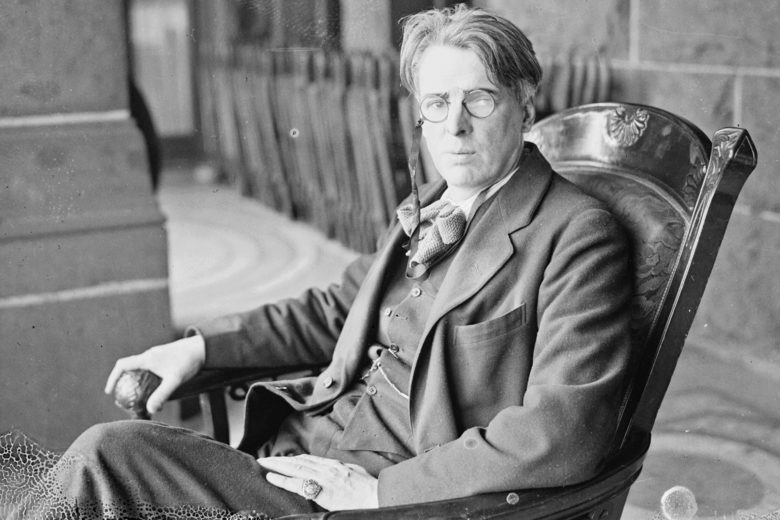 Born in Dublin, Ireland, William Butler Yeats was an enormously influential poet and playwright, whose work formed a clear link between the Romantic and Modern eras. His strong nationalism appeared in his poetry through the recurrent themes of Irish mythology and folklore. Yeats became deeply involved in Irish politics and was even appointed a senator of the Irish Free State. In 1923 he was awarded the Nobel Prize for Literature.
See More By This Poet
More By This Poet
Adam's Curse
We sat together at one summer's end,
That beautiful mild woman, your close friend,   
And you and I, and talked of poetry.
I said, 'A line will take us hours maybe;
Yet if it does not seem a moment's thought,   
Our stitching and unstitching has...
Arts & Sciences
Love
Relationships
To a Friend Whose Work Has Come to Nothing
Now all the truth is out,
Be secret and take defeat
From any brazen throat,
For how can you compete,
Being honor bred, with one
Who were it proved he lies
Were neither shamed in his own
Nor in his neighbors' eyes;
Bred to a harder thing
Than Triumph,...
Arts & Sciences
Relationships
More Poems about Religion
Browse poems about Religion
More Poems about Social Commentaries
Browse poems about Social Commentaries
Get a random poem