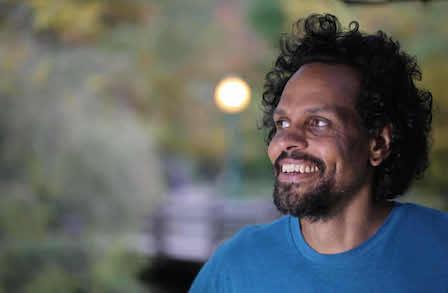 Ross Gay was born in Youngstown, Ohio. Gay is an editor with the chapbook presses Q Avenue and Ledge Mule Press and is a founding editor, with Karissa Chen and Patrick Rosal, of the online sports magazine Some Call it Ballin.' He earned a BA from Lafayette College, an MFA in Poetry from Sarah Lawrence College, and a PhD in English from Temple University. He teaches at Indiana University.
More By This Poet
A Poem in which I Try to Express My Glee at the Music My Friend Has Given Me
Because I must not
get up to throw down in a café in the Midwest,
I hold something like a clownfaced herd
of bareback and winged elephants
stomping in my chest,
I hold a thousand
kites in a field loosed from their tethers
at once, I feel
my...
Arts & Sciences
Relationships
Sorrow Is Not My Name
No matter the pull toward brink. No
matter the florid, deep sleep awaits.
There is a time for everything. Look,
just this morning a vulture
nodded his red, grizzled head at me,
and I looked at him, admiring
the sickle of his beak.
Then the wind kicked...
Wedding Poem
Friends I am here to modestly report
seeing in an orchard
in my town
a goldfinch kissing
a sunflower
again and again
dangling upside down
by its tiny claws
steadying itself by snapping open
like an old-timey fan
its wings
again and again,
until, swooning, it tumbled off
and swooped back to the...
Browse more poets