By May Swenson
It's about Ball fits
the ball, mitt, but
the bat, not all
and the mitt. the time.
Ball hits Sometimes
bat, or it ball gets hit
hits mitt. (pow) when bat
Bat doesn't meets it,
hit ball, and sails
bat meets it. to a place
Ball bounces where mitt
off bat, flies has to quit
air, or thuds in disgrace.
ground (dud) That's about
or it the bases
fits mitt. loaded,
about 40,000
Bat waits fans exploded.
for ball
to mate. It's about
Ball hates the ball,
to take bat's the bat,
bait. Ball the mitt,
flirts, bat's the bases
late, don't and the fans.
keep the date. It's done
Ball goes in on a diamond,
(thwack) to mitt, and for fun.
and goes out It's about
(thwack) back home, and it's
to mitt. about run.
May Swenson, "Analysis of Baseball" from New and Selected Things Taking Place (Boston: Atlantic/Little Brown, 1978). Copyright © 1978 by May Swenson. Reprinted with the permission of The Literary Estate of May Swenson.
Source: New and Selected Things Taking Place (Little Brown and Company, 1978)
Poet Bio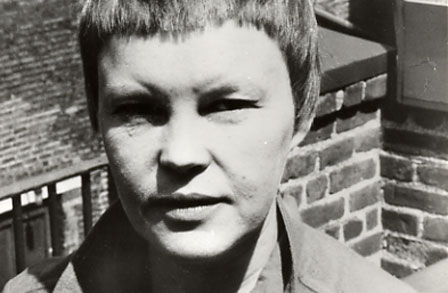 Ranked by Harold Bloom as one of the twentieth century's three best women poets, May Swenson was born in Logan, Utah, but spent most of her adult life in New York City. Active as an editor, teacher and critic, she also translated Swedish poetry and wrote many poems for children. Her particular gift was for close observation and sensuous, imagistic description of the physical world. From 1980 to 1989 she acted as Chancellor of the Academy of American Poets.
See More By This Poet
More By This Poet
More Poems about Activities
Browse poems about Activities
Get a random poem