By May Swenson
Body my house
my horse my hound
what will I do
when you are fallen
Where will I sleep
How will I ride
What will I hunt
Where can I go
without my mount
all eager and quick
How will I know
in thicket ahead
is danger or treasure
when Body my good
bright dog is dead
How will it be
to lie in the sky
without roof or door
and wind for an eye
With cloud for shift
how will I hide?
May Swenson, "Question" from Nature: Poems Old and New. Copyright © 1994 by May Swenson. Reprinted with the permission of Houghton Mifflin Company. All rights reserved.
Source: Nature: Poems Old and New (Houghton Mifflin Harcourt, 1994)
Poet Bio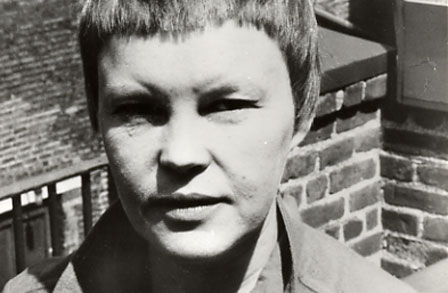 Ranked by Harold Bloom as one of the twentieth century's three best women poets, May Swenson was born in Logan, Utah, but spent most of her adult life in New York City. Active as an editor, teacher and critic, she also translated Swedish poetry and wrote many poems for children. Her particular gift was for close observation and sensuous, imagistic description of the physical world. From 1980 to 1989 she acted as Chancellor of the Academy of American Poets.
See More By This Poet
More By This Poet
More Poems about Living
Browse poems about Living
More Poems about Nature
Listening in Deep Space
We've always been out looking for answers,
telling stories about ourselves,
searching for connection, choosing
to send out Stravinsky and whale song,
which, in translation, might very well be
our undoing instead of a welcome.

We launch satellites, probes, telescopes
unfolding like origami, navigating
geomagnetic storms, major disruptions.
Rovers...
Browse poems about Nature
Get a random poem