By Samuel Menashe
1
Is this writing mine
Whose name is this
Did I underline
What I was to miss?
2
An upheaval of leaves
Enlightens the tree
Rooted it receives
Gusts on a spree
3
Beauty makes me sad
Makes me grieve
I see what I must leave
4
Scaffold, gallows
Do whose will
Who hallows wood
To build, kill
5
Blind man, anvil
No hammer strikes
Your eyes are spikes
Samuel Menashe, "At Cross Purposes" from Samuel Menashe: New and Selected Poems, edited by Christopher Ricks, published by The Library of America, 2005. Copyright © 2004 by Samuel Menashe. Used by permission of the author.
Source: Samuel Menashe: New and Selected Poems (The Library of America, 2005)
Poet Bio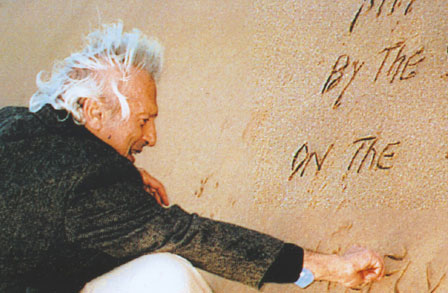 Samuel Menashe was born in New York City and was educated at Queens College of the City University of New York as well as the Sorbonne in Paris. He spent three years serving in the U.S. Army Infantry in Belgium, France, and Germany during World War II. In 2004, Menashe was the recipient of the first Neglected Master Award from the Poetry Foundation. In 2005, the Library of America added Menashe to their collection with New and Selected Poems.
See More By This Poet
More Poems about Arts & Sciences
Browse poems about Arts & Sciences
Get a random poem