By Julia Ward Howe
Mine eyes have seen the glory of the coming of the Lord:
He is trampling out the vintage where the grapes of wrath are stored;
He hath loosed the fatal lightning of his terrible swift sword:
      His truth is marching on.
I have seen Him in the watch-fires of a hundred circling camps;
They have builded Him an altar in the evening dews and damps;
I can read His righteous sentence by the dim and flaring lamps.
      His Day is marching on.
I have read a fiery gospel, writ in burnished rows of steel:
"As ye deal with my contemners, so with you my grace shall deal;
Let the Hero, born of woman, crush the serpent with his heel,
      Since God is marching on."
He has sounded forth the trumpet that shall never call retreat;
He is sifting out the hearts of men before his judgment-seat:
Oh! be swift, my soul, to answer Him! be jubilant, my feet!
      Our God is marching on.
In the beauty of the lilies Christ was born across the sea,
With a glory in his bosom that transfigures you and me:
As he died to make men holy, let us die to make men free,
      While God is marching on.
Mythology & Folklore
Social Commentaries
Poet Bio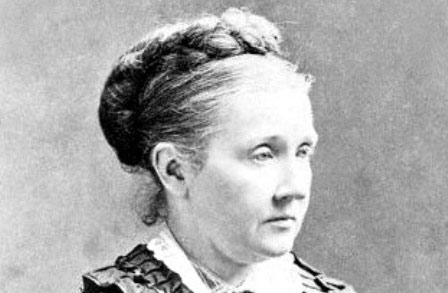 Julia Ward Howe was a versatile writer and activist who wrote "The Battle-Hymn of the Republic," which became a popular Union song when it was published in the Atlantic Monthly in 1862. She was born in New York City to a banker father and a poet mother. A writer from age 16, Howe was active in the anti-slavery and women's suffrage movements.
More Poems about Mythology & Folklore
Browse poems about Mythology & Folklore
More Poems about Social Commentaries
Vagrants and Loiterers
You got that clean waistcoat,
the bright white of a well-tailored
shirt, you got those loose-as-sacks
slacks and some spit-polished shoes,
and you know, whether you are looking
like money, or about to take a stroll,
to tilt that hat like you own
the world; yeah, smoke...
Activities
Living
Social Commentaries
Back Up Quick They're Hippies
That was the year we drove
into the commune in Cornwall.
"Jesus Jim," mam said,
"back up quick they're hippies."

Through the car window,
tents, row after row, flaps open,
long-haired men and women
curled around each other like babies

and the babies themselves
wandered naked across the grass.

I...
Living
Relationships
Social Commentaries
Browse poems about Social Commentaries