By Toi Derricotte
The most popular "act" in
Penn Station
is the three black kids in ratty
sneakers & T-shirts playing
two violins and a cello—Brahms.
White men in business suits
have already dug into their pockets
as they pass and they toss in
a dollar or two without stopping.
Brown men in work-soiled khakis
stand with their mouths open,
arms crossed on their bellies
as if they themselves have always
wanted to attempt those bars.
One white boy, three, sits
cross-legged in front of his
idols—in ecstasy—
their slick, dark faces,
their thin, wiry arms,
who must begin to look
like angels!
Why does this trembling
pull us?
A: Beneath the surface we are one.
B: Amazing! I did not think that they could speak this tongue.
Toi Derricotte, "Black Boys Play the Classics" from Tender. Copyright ©1997 by Toi Derricotte. All rights are controlled by the University of Pittsburgh Press, Pittsburgh, PA 15260, www.upress.pitt.edu. Used by permission of University of Pittsburgh Press.
Source: Tender (1997)
Arts & Sciences
Social Commentaries
Poet Bio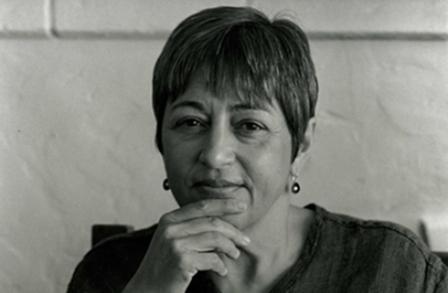 Born in Michigan, Toi Derricotte is the co-founder of the African-American writers retreat, Cave Canem, and Professor of English at the University of Pittsburgh. A two-time poetry fellowship recipient from the National Endowment for the Arts, her literary memoir, The Black Notebooks, won the 1998 Annisfield-Wolf Book Award for Nonfiction.
More By This Poet
More Poems about Arts & Sciences
Browse poems about Arts & Sciences
More Poems about Social Commentaries
Vagrants and Loiterers
You got that clean waistcoat,
the bright white of a well-tailored
shirt, you got those loose-as-sacks
slacks and some spit-polished shoes,
and you know, whether you are looking
like money, or about to take a stroll,
to tilt that hat like you own
the world; yeah, smoke...
Activities
Living
Social Commentaries
Back Up Quick They're Hippies
That was the year we drove
into the commune in Cornwall.
"Jesus Jim," mam said,
"back up quick they're hippies."

Through the car window,
tents, row after row, flaps open,
long-haired men and women
curled around each other like babies

and the babies themselves
wandered naked across the grass.

I...
Living
Relationships
Social Commentaries
Browse poems about Social Commentaries