By Sir Thomas Wyatt
I find no peace, and all my war is done.
I fear and hope. I burn and freeze like ice.
I fly above the wind, yet can I not arise;
And nought I have, and all the world I seize on.
That loseth nor locketh holdeth me in prison
And holdeth me not—yet can I scape no wise—
Nor letteth me live nor die at my device,
And yet of death it giveth me occasion.
Without eyen I see, and without tongue I plain.
I desire to perish, and yet I ask health.
I love another, and thus I hate myself.
I feed me in sorrow and laugh in all my pain;
Likewise displeaseth me both life and death,
And my delight is causer of this strife.
Poet Bio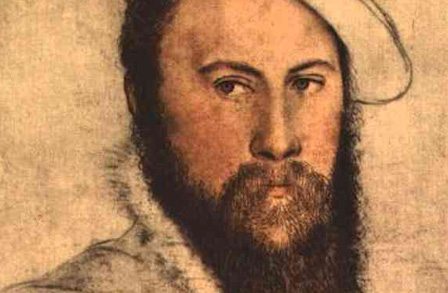 Born in Kent, England, Sir Thomas Wyatt was an ambassador to France and Italy for King Henry VIII. Wyatt's travels abroad exposed him to different forms of poetry, which he adapted for the English language — most notably, the sonnet. Rumored to be Anne Boleyn's lover, he spent a month in the Tower of London until Boleyn's execution for adultery. Many consider his poem "Whoso List to Hunt" to be about Boleyn.
See More By This Poet
More Poems about Love
Browse poems about Love
More Poems about Relationships
Browse poems about Relationships
Get a random poem