By Sheila Black
In the frozen square, the student asks me if I will
sell him the books from my backpack. He hides them
under his winter coat. Steam rises from the whole
wheat rolls we break open at the breakfast table.
We drink hot apple tea and pronounce the skyline
"charming." In a jail a man counts the visible bones,
and recounts them in the blaze of morning. To turn
a self to light proves painful — each piece must
be dissected in turn; you pass through every feeling
imaginable, so many you might make a dictionary — 
dread to disgust, delight to degradation. The prisoner
remembers wanting only to read as if in a fever — 
running fingers over pyramids of words as if he might
translate himself from this life to a more vivid existence
in which he cuts open the pages with a knife in
plain sight of everyone like a man eating meat and
potatoes at the dinner table. Not that world; this one
where blue light and sharpened files, where identikit
and stamps on passports, where the book in his back-
pack is a crime, and I have sold him down the river
for ideas I barely value — the volumes flung carelessly
across my hotel room, while he picks mushrooms on
the edge of dread, pallid ghosts of what won't speak
or be spoken. Or where I remember what it is to
be present in the world, and I turn away, unable to
bear it — so much light and dread, so much in the darkness
growing or simply how hard to ever remain in place.
Source: Poetry (March 2014)
Arts & Sciences
Social Commentaries
Poet Bio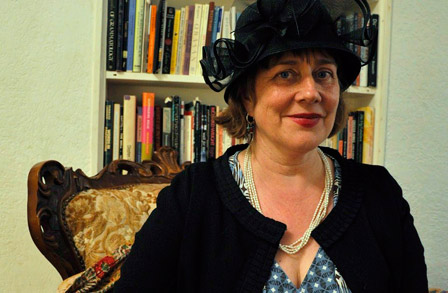 Sheila Black was born in Minneapolis, Minnesota. She earned a BA in French literature from Barnard College and an MFA in poetry from the University of Montana. Her fifth full-length book is Vivisection (forthcoming 2022). She is the author of a chapbook All the Sleep in the World (2021), Iron, Ardent (2017), Wen Kroy (2014), Love/Iraq (2009), and House of Bone (2007). She has co-edited two anthologies: Beauty is a Verb: The New Poetry of Disability (2011) and The Right Way to Be Crippled & Naked: The Fiction of Disability (2017). Her poems and essays have appeared in Poetry magazine, the Spectacle, the New York Times, and elsewhere. She has also written more than 40 books for children and young adults. She was a 2000 U.S. co-winner of the Frost-Pellicer Frontera Prize and a 2012 winner of the Witter Bynner Fellowship from the Library of Congress. Black is a cofounder of Zoeglossia, a nonprofit organization that strives to build community for poets with disabilities and promotes their work. She is the current director of development for the Association of Writers & Writing Programs (AWP). Before that, she served as associate director of Corporate and Foundation Relations at New Mexico State University Foundation. She lives in San Antonio, Texas.
See More By This Poet
More Poems about Arts & Sciences
Browse poems about Arts & Sciences
More Poems about Social Commentaries
Browse poems about Social Commentaries
Get a random poem