By Michael Earl Craig
This night nurse is different.
She walks into my room and does not turn the light on.
She thinks I am sleeping.
I have just barely opened my left eye,
am looking through the slightest slit,
as moonlight exposes the room
for what it really is — a collection
of surfaces; lines and planes, mostly.
The night nurse puts a foot up on the radiator
and braces her clipboard on her knee
as she appears to take down a few notes.
I imagine she is working on a sonnet,
and that her ankle looks like polished walnut.
You imagine she is working on a crossword,
and that her feet are killing her.
The slightest slit is like an old gate
at a Japanese tea garden at night,
in the rain, that is supposed to be closed,
that is supposed to be locked.
"Someone has locked up poorly," you'd say.
"Incorrectly." But no one has asked you.
Source: Poetry (April 2014)
Poet Bio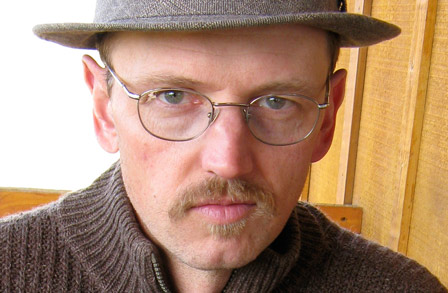 Poet Michael Earl Craig grew up in Dayton, Ohio, and was educated at Ohio Wesleyan University, the University of Montana, and the University of Massachusetts at Amherst. Craig lives near Livingston, Montana, where he works as a farrier. Influenced by artists as diverse as Werner Herzog, Julio Cortázar, Lou Reed, and James Tate, Craig's poems question the assumptions and habits of daily life, using humor and frequent glimpses of a torqued pastoral landscape.
See More By This Poet
More Poems about Arts & Sciences
Listening in Deep Space
We've always been out looking for answers,
telling stories about ourselves,
searching for connection, choosing
to send out Stravinsky and whale song,
which, in translation, might very well be
our undoing instead of a welcome.

We launch satellites, probes, telescopes
unfolding like origami, navigating
geomagnetic storms, major disruptions.
Rovers...
Browse poems about Arts & Sciences
More Poems about Living
Browse poems about Living
Get a random poem