By Muriel Rukeyser
I lived in the first century of world wars.
Most mornings I would be more or less insane,
The newspapers would arrive with their careless stories,
The news would pour out of various devices
Interrupted by attempts to sell products to the unseen.
I would call my friends on other devices;
They would be more or less mad for similar reasons.
Slowly I would get to pen and paper,
Make my poems for others unseen and unborn.
In the day I would be reminded of those men and women,
Brave, setting up signals across vast distances,
Considering a nameless way of living, of almost unimagined values.
As the lights darkened, as the lights of night brightened,
We would try to imagine them, try to find each other,
To construct peace, to make love, to reconcile
Waking with sleeping, ourselves with each other,
Ourselves with ourselves. We would try by any means
To reach the limits of ourselves, to reach beyond ourselves,
To let go the means, to wake.
I lived in the first century of these wars.
Muriel Rukeyser, "Poem" from The Speed of Darkness. Copyright © 1968 by Muriel Rukeyser. Reprinted by permission of International Creative Management.
Source: The Speed of Darkness (Vintage Books, 1968)
Arts & Sciences
Social Commentaries
Poet Bio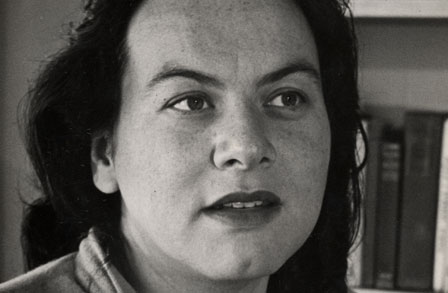 A model of the poet as social activist, Muriel Rukeyser was born into an affluent Jewish family in New York City. While her earlier work shows the influence of W.H. Auden in its intricate rhyming and regular meter, she later wrote more freely, famously declaring in a 1968 poetic manifesto "No more masks! No more mythologies!" Apart from her advocacy for the disadvantaged, she reflected a great range of interests, including science, in her writing, and in the 1960s and 70s became a favorite of the anti-war movement and of feminists.
More By This Poet
More Poems about Arts & Sciences
Browse poems about Arts & Sciences
More Poems about Social Commentaries
Vagrants and Loiterers
You got that clean waistcoat,
the bright white of a well-tailored
shirt, you got those loose-as-sacks
slacks and some spit-polished shoes,
and you know, whether you are looking
like money, or about to take a stroll,
to tilt that hat like you own
the world; yeah, smoke...
Activities
Living
Social Commentaries
Back Up Quick They're Hippies
That was the year we drove
into the commune in Cornwall.
"Jesus Jim," mam said,
"back up quick they're hippies."

Through the car window,
tents, row after row, flaps open,
long-haired men and women
curled around each other like babies

and the babies themselves
wandered naked across the grass.

I...
Living
Relationships
Social Commentaries
Browse poems about Social Commentaries