By Denise Levertov
Though the road turn at last
to death's ordinary door,
and we knock there, ready
to enter and it opens
easily for us,
yet
all the long journey
we shall have gone in chains,
fed on knowledge-apples
acrid and riddled with grubs.
We taste other food that life,
like a charitable farm-girl,
holds out to us as we pass—
but our mouths are puckered,
a taint of ash on the tongue.
It's not joy that we've lost—
wildfire, it flares
in dark or shine as it will.
What's gone
is common happiness,
plain bread we could eat
with the old apple of knowledge.
That old one—it griped us sometimes,
but it was firm, tart,
sometimes delectable …
The ashen apple of these days
grew from poisoned soil. We are prisoners
and must eat
our ration. All the long road
in chains, even if, after all,
we come to
death's ordinary door, with time
smiling its ordinary
long-ago smile.
Denise Levertov, "Prisoners" from Oblique Prayers. Copyright © 1984 by Denise Levertov. Reprinted with the permission of New Directions Publishing Corporation, www.wwnorton.com/nd/welcome.htm.
Source: Oblique Prayers (Bloodaxe Books, 1984)
Poet Bio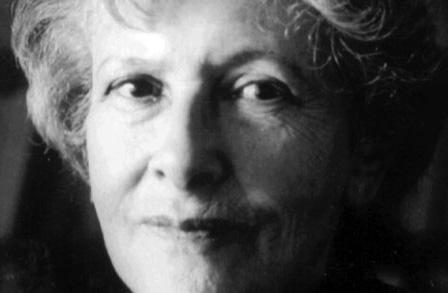 Although born in England, Denise Levertov's long residence in the United States and her allegiance to the nativist vision and organic, open-form procedures of William Carlos Williams make her a distinctly American writer. Levertov came here in 1948, and was soon associating with the Black Mountain poets Robert Duncan and Robert Creeley. Her quietly passionate poems, attuned to mystic insights and mapping quests for harmony, became darker and more political in the 1960s as a result of personal loss and her outrage at the Vietnam War.
See More By This Poet
More By This Poet
In California: Morning, Evening, Late January
Pale, then enkindled,
light
advancing,
emblazoning
summits of palm and pine,

the dew
lingering,
scripture of
scintillas.

Soon the roar
of mowers
cropping the already short
grass of lawns,

men with long-nozzled
cylinders of pesticide
poking at weeds,
at moss in cracks of cement,

and louder roar
of helicopters off to spray
vineyards where braceros try
to hold their breath,

and...
Activities
Nature
Social Commentaries
More Poems about Living
Browse poems about Living
Get a random poem