By Mary Barnard
After reading Ash Wednesday
she looked once at the baked beans
and fled. Luncheonless, poor girl,
she observed a kind of poetic Lent—
and I had thought I liked poetry
better than she did.
I do. But to me its most endearing
quality is its unsuitableness;
and, conversely, the chief wonder in heaven
(whither I also am sometimes transported)
is the kind of baggage I bring with me.
Surely there is no more exquisite jointure
in the anatomy of life than that at which
poetry dovetails with the inevitable meal
and Mrs. B. sits murmuring of avocados.
Mary Barnard, "Remarks on Poetry and the Physical World" from Collected Poems (Portland: Breitenbush, 1979). Used by permission of the Estate of Mary Barnard.
Source: The Collected Poems of Mary Barnard (Breitenbush, 1979)
Activities
Arts & Sciences
Religion
Poet Bio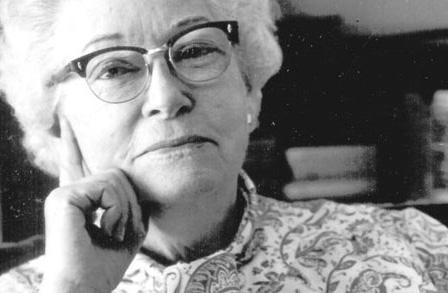 Mary Barnard was born in Vancouver, Washington and earned her BA from Reed College. Her books include A Few Poems (1952), The Mythmakers (1966), Three Fables (1975) and Nantucket Genesis: The Tale of My Tribe (1988). She was awarded Poetry magazine's Levinson Award in 1935, the Elliston award for her book Collected Poems (1979), the Western States Book Award in 1986 for her book Time and the White Tigress (1986), and the Woman of Achievement award from Clark College in 1988. Barnard died in 2001.
See More By This Poet
More Poems about Activities
Browse poems about Activities
More Poems about Arts & Sciences
Browse poems about Arts & Sciences
More Poems about Religion
Browse poems about Religion
Get a random poem