By Jean Valentine
People pray to each other. The way I say "you" to someone else,
respectfully, intimately, desperately. The way someone says
"you" to me, hopefully, expectantly, intensely ...
—Huub Oosterhuis
You who I don't know I don't know how to talk to you
—What is it like for you there?
Here … well, wanting solitude; and talk; friendship—
The uses of solitude. To imagine; to hear.
Learning braille. To imagine other solitudes.
But they will not be mine;
to wait, in the quiet; not to scatter the voices—
What are you afraid of?
What will happen. All this leaving. And meetings, yes. But death.
What happens when you die?
"… not scatter the voices,"
Drown out. Not make a house, out of my own words. To be quiet in
another throat; other eyes; listen for what it is like there. What
word. What silence. Allowing. Uncertain: to drift, in the
restlessness … Repose. To run like water—
What is it like there, right now?
Listen: the crowding of the street; the room. Everyone hunches in
against the crowding; holding their breath: against dread.
What do you dread?
What happens when you die?
What do you dread, in this room, now?
Not listening. Now. Not watching. Safe inside my own skin.
To die, not having listened. Not having asked … To have scattered
life.
Yes I know: the thread you have to keep finding, over again, to
follow it back to life; I know. Impossible, sometimes.
Jean Valentine, "Sanctuary" from Door in the Mountain: New and Collected Poems, 1965-2003. Copyright © 2004 by Jean Valentine. Reprinted with the permission of Wesleyan University Press.
Source: Door in the Mountain: New and Collected Poems 1965-2003 (Wesleyan University Press, 2004)
Poet Bio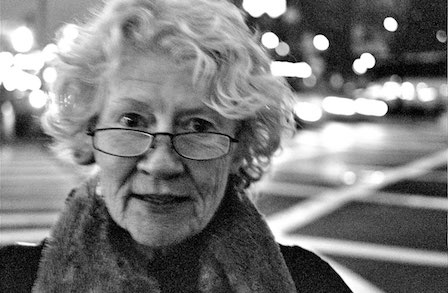 Valentine's lyric poems delve into dream lives with glimpses of the personal and political. In the New York Times Book Review, David Kalstone said of her work, "Valentine has a gift for tough strangeness, but also a dreamlike syntax and manner of arranging the lines of . . . short poems so as to draw us into the doubleness and fluency of feelings." A respected teacher, she has taught workshops at Columbia University, Sarah Lawrence College, and the 92nd Street Y in New York. A longtime resident of New York City, Valentine was named the State Poet of New York in 2008.
See More By This Poet
Get a random poem