By Sir Philip Sidney
Loving in truth, and fain in verse my love to show,
That she, dear she, might take some pleasure of my pain,
Pleasure might cause her read, reading might make her know,
Knowledge might pity win, and pity grace obtain,—
I sought fit words to paint the blackest face of woe,
Studying inventions fine, her wits to entertain,
Oft turning others' leaves, to see if thence would flow
Some fresh and fruitful showers upon my sunburned brain.
But words came halting forth, wanting Invention's stay:
Invention, Nature's child, fled step-dame Study's blows,
And others' feet still seemed but strangers in my way.
Thus great with child to speak, and helpless in my throes,
Biting my truant pen, beating myself for spite:
"Fool," said my Muse to me, "look in thy heart and write."

Poet Bio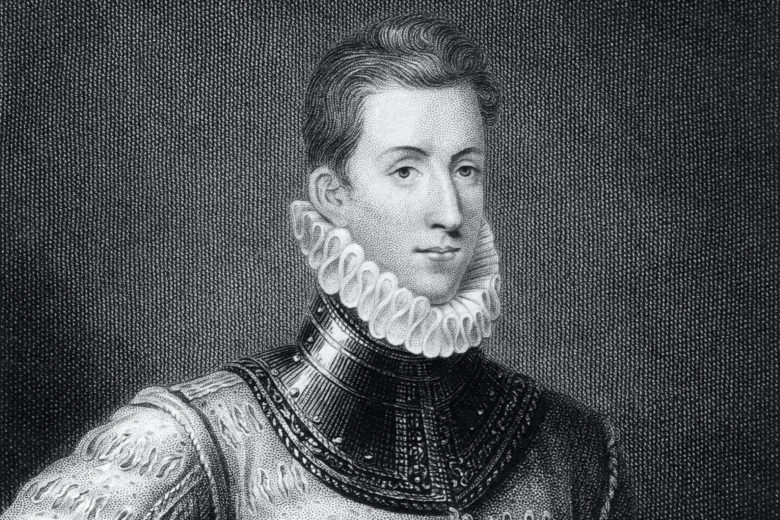 Sir Philip Sidney was the grandson of the Duke of Northumberland and the son of one of Queen Elizabeth I's ladies-in-waiting. Sidney was born in Kent and educated at Shrewsbury School and Oxford University. As a young man, he traveled to France, Germany, and Italy and joined Queen Elizabeth's court. Sidney died of gangrene at the age of 32 after sustaining a battle wound in the Netherlands. None of his work was published during his lifetime.
See More By This Poet
More By This Poet
More Poems about Arts & Sciences
Listening in Deep Space
We've always been out looking for answers,
telling stories about ourselves,
searching for connection, choosing
to send out Stravinsky and whale song,
which, in translation, might very well be
our undoing instead of a welcome.

We launch satellites, probes, telescopes
unfolding like origami, navigating
geomagnetic storms, major disruptions.
Rovers...
Browse poems about Arts & Sciences
More Poems about Love
Browse poems about Love
Get a random poem