By Gertrude Stein
Sweet sweet sweet sweet sweet tea.
Susie Asado.
Sweet sweet sweet sweet sweet tea.
Susie Asado.
Susie Asado which is a told tray sure.
A lean on the shoe this means slips slips hers.
When the ancient light grey is clean it is yellow, it is a silver seller.
This is a please this is a please there are the saids to jelly. These are the wets these say the sets to leave a crown to Incy.
Incy is short for incubus.
A pot. A pot is a beginning of a rare bit of trees. Trees tremble, the old vats are in bobbles, bobbles which shade and shove and render clean, render clean must.
Drink pups.
Drink pups drink pups lease a sash hold, see it shine and a bobolink has pins. It shows a nail.
What is a nail. A nail is unison.
Sweet sweet sweet sweet sweet tea.
Gertrude Stein, "Susie Asado" from Selected Writings of Gertrude Stein. (New York: Peter Smith Publishing, 1992). Copyright © 1992 by Calman A. Levin, Executor of the Estate of Gertrude Stein. Reprinted with the permission of the Estate of Gertrude Stein.
Source: The Norton Anthology of Modern and Contemporary Poetry Third Edition (W. W. Norton and Company Inc., 2003)
Activities
Arts & Sciences
Poet Bio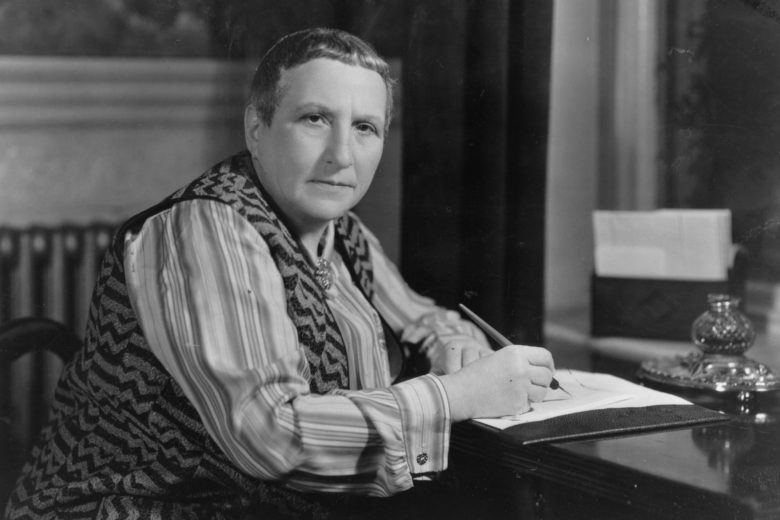 More famous while alive for her outlandish personality and the artistic salon she hosted in Paris than for her writing, Gertrude Stein is now regarded as one of modern literature's most influential experimentalists. (Ironically, her best-known book, The Autobiography of Alice B. Toklas (1933), is her most traditional.) Among the innovations she hoped would refresh language and draw attention to its potential as music are the multiple repetition with slight variations of short, seemingly nonsensical sentences and the generation of meaning from mosaics of suggestive imagery.
See More By This Poet
More By This Poet
More Poems about Activities
Browse poems about Activities
More Poems about Arts & Sciences
Browse poems about Arts & Sciences
Get a random poem