By Jeffrey Skinner
You would expect an uncountable number,
Acres and acres of books in rows
Like wheat or gold bullion. Or that the words just
Appear in the mind, like banner headlines.
In fact there is one shelf
Holding a modest number, ten or twelve volumes.
No dust jackets, because — no dust.
Covers made of gold or skin
Or golden skin, or creosote or rain-
Soaked macadam, or some
Mix of salt & glass. You turn a page
& mountains rise, clouds drawn by children
Bubble in the sky, you are twenty
Again, trying to read a map
Dissolving in your hands. I say You & mean
Me, say God & mean Librarian — who after long research
Offers you a glass of water and an apple — 
You, grateful to discover your name,
A footnote in that book.
Source: Poetry (December 2015)
Poet Bio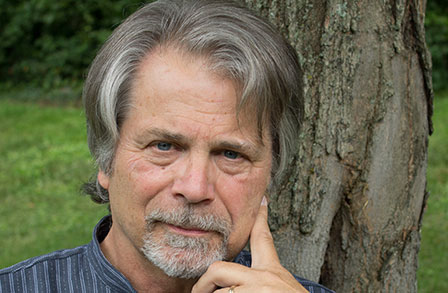 Jeffrey Skinner's recent collection of poems is Glaciology (Southern Illinois University Press, 2013). He is a 2014 Poetry Fellowship recipient from the Guggenheim Foundation.
See More By This Poet
More Poems about Arts & Sciences
Browse poems about Arts & Sciences
More Poems about Religion
Browse poems about Religion
Get a random poem