By Wilfred Owen
'O Jesus Christ! I'm hit,' he said; and died.

Whether he vainly cursed or prayed indeed,
The Bullets chirped—In vain, vain, vain!

Machine-guns chuckled—Tut-tut! Tut-tut!

And the Big Gun guffawed.
Another sighed,—'O Mother,—mother,—Dad!'
Then smiled at nothing, childlike, being dead.

And the lofty Shrapnel-cloud

Leisurely gestured,—Fool!

And the splinters spat, and tittered.
'My Love!' one moaned. Love-languid seemed his mood,

Till slowly lowered, his whole face kissed the mud.

And the Bayonets' long teeth grinned;
Rabbles of Shells hooted and groaned;
And the Gas hissed.
Notes:
POL Participants
: several changes to punctuation have been changed, and the line "
And the falling splinters tittered" was changed to "

And the splinters spat, and tittered", in June 2014.
Source: The Poems of Wilfred Owen, edited by Jon Stallworthy (W. W. Norton and Company, Inc., 1986)
Living
Social Commentaries
Poet Bio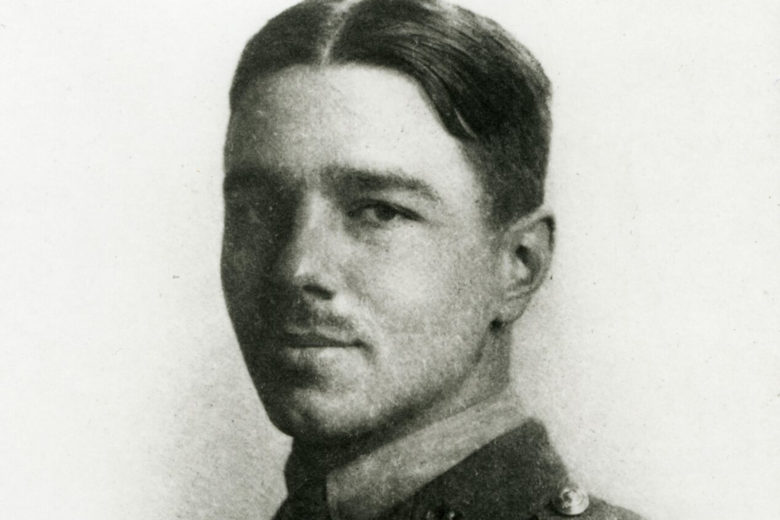 Wilfred Owen spent much of his short, adult life as a volunteer soldier for the British military during World War I. He wrote vivid and terrifying poems about modern warfare. Owen was killed by machine gun fire just days before the end of the war.
See More By This Poet
More By This Poet
More Poems about Living
Browse poems about Living
More Poems about Social Commentaries
Browse poems about Social Commentaries
Get a random poem