By Rae Armantrout
1
"must represent the governess
for, of course, the creature itself
could not inspire such terror."
staring at me fixedly, no
trace of recognition.
"when the window opened of its own accord.
In the big walnut tree
were six or seven wolves …
strained attention. They were white."
(The fear of cloudy skies.)
like strangers! After five years
Misgiving. Misdoubt.
2
(The fear that one is dreaming.)
The moon was shining, suddenly
everything around me appeared
(The fear of)
unfamiliar.
Wild vista
inside or near the home.
(Dread of bearing a monster.)
If I failed to overlook the torn cushions,
three teapots side by side,
strewn towels, socks, papers—
both foreign and stale.
3
when I saw the frame was rotten,
crumbling away from the glass,
in spots, in other places still attached
with huge globs of putty.
The doctor forced me to repeat the word.
Chimera. Cold feet.
scared and unreal looking at buildings.
The thin Victorians with scaly paint,
their flimsy backporches linked
by skeletal stairways.
4
After five years
(The fear that you are not at home.)
I was sitting in the alcove where I never sit
when I noticed a single eye,
crudely drawn in pencil,
in a corner near the floor.
The paint was blistering—
beneath it I saw white.
5
Sparrows settle on the sagging wires.
(Fear of sights not turned to words.)
Horrific. Grisly.
"Rumplestiltskin!"
Not my expression.
Not my net of veins
beneath thin skin.
(A morbid dread of throbbing.)
Of its own accord
Rae Armantrout, "Xenophobia" from Veil: New and Selected Poems. Copyright © 2001 by Rae Armantrout. Reprinted with the permission of Wesleyan University Press.
Source: Veil: New and Selected Poems (Wesleyan University Press, 2001)
Poet Bio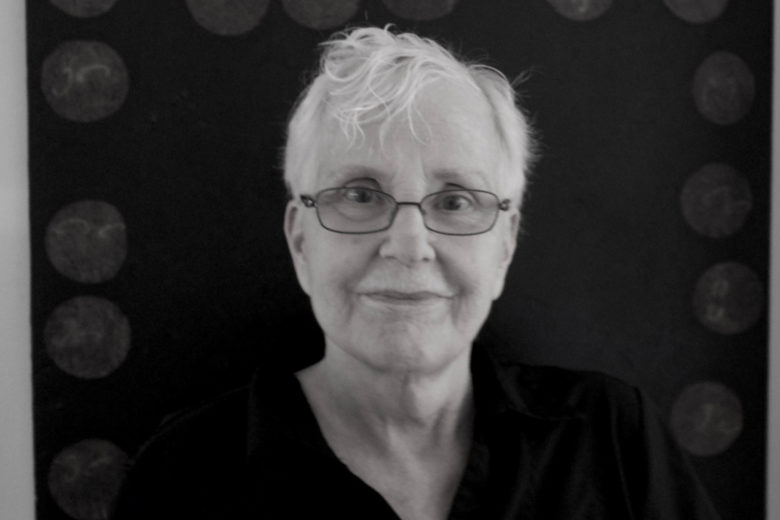 Rae Armantrout, one of the founding members of the West Coast group of Language poets, stands apart from other Language poets in her lyrical voice and her commitment to the interior and the domestic. Her short-lined poems are often concerned with dismantling conventions of memory, pop culture, science, and mothering, and these unsparing interrogations are often streaked with wit.
See More By This Poet
More By This Poet
More Poems about Arts & Sciences
Listening in Deep Space
We've always been out looking for answers,
telling stories about ourselves,
searching for connection, choosing
to send out Stravinsky and whale song,
which, in translation, might very well be
our undoing instead of a welcome.

We launch satellites, probes, telescopes
unfolding like origami, navigating
geomagnetic storms, major disruptions.
Rovers...
Browse poems about Arts & Sciences
Get a random poem