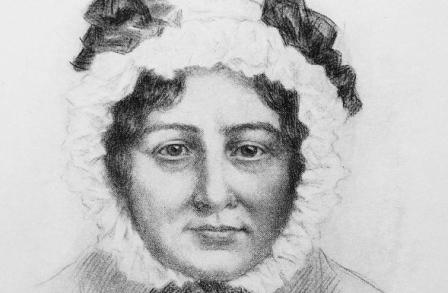 British Poet and anthologist Mary Lamb worked as a seamstress for 10 years to support her ailing family. She suffered from bipolar disorder and, during an episode in 1796, killed her mother with a kitchen knife. Her younger brother Charles, a poet and essayist who worked for the East India Company, agreed to serve as Mary's caretaker rather than consign her to lifelong institutionalization. Despite her illness, the siblings developed a collaborative writing relationship and produced many well-known collections of poetry and prose for children. The books they wrote together were published anonymously or under Charles's name in order to shield Mary from unwanted publicity.
More By This Poet
Envy
This rose-tree is not made to bear
The violet blue, nor lily fair,
   Nor the sweet mignionet:
And if this tree were discontent,
Or wished to change its natural bent,
   It all in vain would fret.

And should it...
Breakfast
A dinner party, coffee, tea,
Sandwich, or supper, all may be
In their way pleasant. But to me
Not one of these deserves the praise
That welcomer of new-born days,
A breakfast, merits; ever giving
Cheerful notice we are living
Another day refreshed by sleep,
When its festival...
Browse more poets