By Robert Burns
O my Luve is like a red, red rose
   That's newly sprung in June;
O my Luve is like the melody
   That's sweetly played in tune.
So fair art thou, my bonnie lass,
   So deep in luve am I;
And I will luve thee still, my dear,
   Till a' the seas gang dry.
Till a' the seas gang dry, my dear,
   And the rocks melt wi' the sun;
I will love thee still, my dear,
   While the sands o' life shall run.
And fare thee weel, my only luve!
   And fare thee weel awhile!
And I will come again, my luve,
   Though it were ten thousand mile.
Arts & Sciences
Living
Love
Poet Bio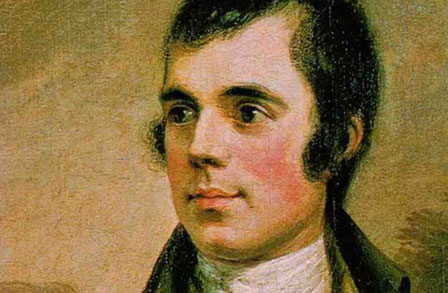 Robert Burns is considered the unofficial national poet of Scotland. He wrote some poetry in standard English, but his poems and songs in Scottish dialect are better remembered. His patriotic poem "Scots Wha Hae" stirs Scottish sentiment to this day, and his song "Auld Lang Syne" is synonymous with New Year's Eve.
More Poems about Arts & Sciences
Browse poems about Arts & Sciences
More Poems about Living
What Women Are Made Of
We are all ventricle, spine, lung, larynx, and gut.
Clavicle and nape, what lies forked in an open palm;

we are follicle and temple. We are ankle, arch,
sole. Pore and rib, pelvis and root

and tongue. We are wishbone and gland and molar
and...
Vagrants and Loiterers
You got that clean waistcoat,
the bright white of a well-tailored
shirt, you got those loose-as-sacks
slacks and some spit-polished shoes,
and you know, whether you are looking
like money, or about to take a stroll,
to tilt that hat like you own
the world; yeah, smoke...
Activities
Living
Social Commentaries
Browse poems about Living
More Poems about Love
Browse poems about Love