By Michael Metivier
The mower alone
saw from the median
the cloud come over
the mountain down to trawl
the valley like a whale
and the swifts like water
passing through her white baleen.
The mower alone patrolling
the haw with the hawks
saw from the median
the cloud come over
the mountain to swallow
where the sky had been
and where the town had been
pinned by steeples
and hummed electric hubris.
For everyone else
on either side of the narrow
the cloud was only a minute
of a single verse
because the highway treats the blues
as all the same as if Bentonia
were Sunflower County
but the land between the lanes
even while under the blades
sees the power in every cloud
and hears each song spiral out
of an old familiar tune just so
to devour our hearts.
Source: Poetry (February 2015)
Nature
Social Commentaries
Poet Bio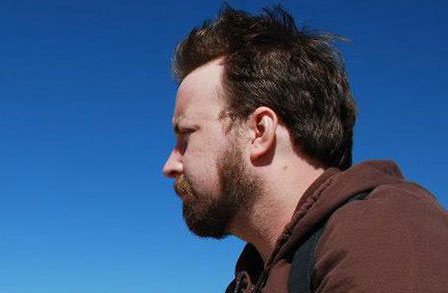 Michael Metivier's recent work appears, or is forthcoming, in Crazyhorse, jubilat, Midwest Quarterly, and African American Review.
More Poems about Nature
What Women Are Made Of
We are all ventricle, spine, lung, larynx, and gut.
Clavicle and nape, what lies forked in an open palm;

we are follicle and temple. We are ankle, arch,
sole. Pore and rib, pelvis and root

and tongue. We are wishbone and gland and molar
and...
White Box
Of Tribulation, these are They,
Denoted by the White.
— Emily Dickinson


Pained, permanent
wakefulness

Exposed
in the split geode

a Santa's grotto
Jagged milk

quartz crusts
constitute

every surface —
a mouth

all teeth
self-sharpening

like sea urchins' —
"Uncomfortably beautiful"

toughened glass
spikes

in the doorways
of award-

winning offices
 — rough

sleepers from the womb
condemned

to make of anything succulent
rock

of porticoes
iron maidens
Browse poems about Nature
More Poems about Social Commentaries
Vagrants and Loiterers
You got that clean waistcoat,
the bright white of a well-tailored
shirt, you got those loose-as-sacks
slacks and some spit-polished shoes,
and you know, whether you are looking
like money, or about to take a stroll,
to tilt that hat like you own
the world; yeah, smoke...
Activities
Living
Social Commentaries
Back Up Quick They're Hippies
That was the year we drove
into the commune in Cornwall.
"Jesus Jim," mam said,
"back up quick they're hippies."

Through the car window,
tents, row after row, flaps open,
long-haired men and women
curled around each other like babies

and the babies themselves
wandered naked across the grass.

I...
Living
Relationships
Social Commentaries
Browse poems about Social Commentaries