By Dorothea Tanning
Be perfect, make it otherwise.
Yesterday is torn in shreds.
Lightning's thousand sulfur eyes
Rip apart the breathing beds.
Hear bones crack and pulverize.
Doom creeps in on rubber treads.
Countless overwrought housewives,
Minds unraveling like threads,
Try lipstick shades to tranquilize
Fears of age and general dreads.
Sit tight, be perfect, swat the spies,
Don't take faucets for fountainheads.
Drink tasty antidotes. Otherwise
You and the werewolf: newlyweds.
Dorothea Tanning, "All Hallows' Eve" from Coming to That. Copyright © 2011 by Dorothea Tanning. Reprinted by permission of Graywolf Press.
Source: Coming to That (Graywolf Press, 2011)
Poet Bio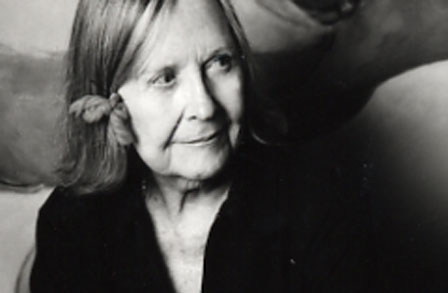 Artist and writer Dorothea Tanning grew up in Galesburg, Illinois, and spent almost 30 years living in Paris, before moving to New York City. Her artistic accomplishments included painting, printmaking, sculpture, set design, and costume design, and her work was exhibited in the Guggenheim Museum, the Metropolitan Museum of Art, the Tate Modern, and the Philadelphia Museum. Tanning started writing poetry in her late '80s, and her work was subsequently published in the Yale Review, the New Yorker, Poetry, and the New Republic.
See More By This Poet
More Poems about Living
Browse poems about Living
More Poems about Relationships
Browse poems about Relationships
Get a random poem