By Simon J. Ortiz
You could drive blind
for those two seconds
and they would be forever.
I think that as a diesel truck
passes us eight miles east of Mission.
Churning through the storm, heedless
of the hill sliding away.
There isn't much use to curse but I do.
Words fly away, tumbling invisibly
toward the unseen point where
the prairie and sky meet.
The road is like that in those seconds,
nothing but the blind white side
of creation.
You're there somewhere,
a tiny struggling cell.
You just might be significant
but you might not be anything.
Forever is a space of split time
from which to recover after the mass passes.
My curse flies out there somewhere,
and then I send my prayer into the wake
of the diesel truck headed for Sioux Falls
one hundred and eighty miles through the storm.
Simon Ortiz, "Blind Curse" from After and Before the Lightning (Tucson: The University of Arizona Press, 1994). Copyright © 1994 by Simon Ortiz. Reprinted with the permission of the author.
Source: After and Before the Lightning (University of Arizona Press, 1994)
Activities
Nature
Religion
Poet Bio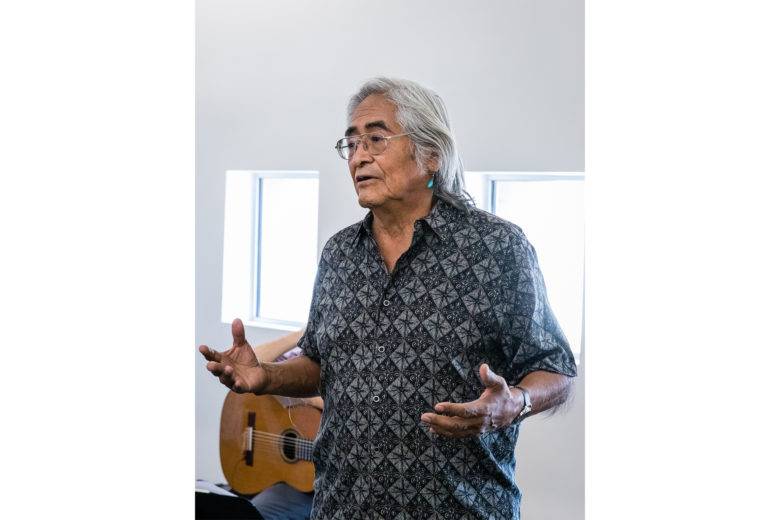 A leading figure in the Native American literary renaissance that emerged in the 1960s, Simon J. Ortiz has published short fiction and non-fiction prose in addition to poetry. Whatever form his writing takes, though, it is concerned with modern man's alienation from others, from himself, and from his environment—urging as a solution our meaningful re-connection with the wisdom of ancestral spirits and with our Mother Earth. Simple in its diction and rhythms, Ortiz's poetry can express great reverence for beloved landscapes as well as intense rage against the de-humanizing forces of excessive development and mechanization.
See More By This Poet
More Poems about Activities
Browse poems about Activities
More Poems about Nature
Browse poems about Nature
More Poems about Religion
Browse poems about Religion
Get a random poem